Buying your wedding shoes should be such an exciting part of your wedding planning. 
Whether you're wearing a short or tea length dress wedding dress or a full length bridal gown they will undoubtedly peep out, so invest a little time to find a beautiful pair that you will treasure long after the big day.
Here are my top tips to help make the whole process simple and fun.
1.   Consider your heel height ……..if you're not used to wearing high heels then your wedding day isn't the day to start! Trust me you'll regret it, comfort is all important and as you may be a little nervous the last thing you need it to be worried about tripping down the aisle (literally!)    Pick a heel height that you're comfortable with, after all even if your fiancé is much taller than you, adding a few centimetres to your heels will make very little difference so don't feel pressured to wear high wedding heels if they're not for you, there are tons of gorgeous low heeled wedding shoes available too!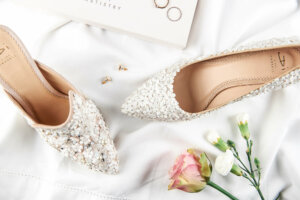 2.  Invest in quality…….. aside from heel height, comfort in general is super important. Whether you have waited for a big event or have opted for something small and intimate weddings are generally long days with a fair amount of walking around chatting with family and friends, followed by some dancing with any luck (Covid permitting! ) so it's really important to have comfy shoes. Personally I always opt for shoes with leather linings (and soles if possible ) they're generally softer and more flexible, and will often 'give' a little, obviously you want them to fit well but if you're between sizes then I would opt for a slightly looser fit, perhaps with a gel insole to start off with which can be removed, after all your feet may swell a little when you've been standing for a while and tight wedding shoes are not a good thing!
3.   Wearability after the day……if you're going to invest in some lovely wedding heels then it seems such a shame to only wear them once. Of course you may be the kind of bride who wants to keep them in their beautiful box and treasure them forever, which is a lovely thing and absolutely your choice, but if not then it's worth considering how likely you are to wear them again. A coloured wedding shoe, or a nude, rose gold etc can make a real statement and look just as great with your jeans as your wedding dress! We make a lot of gorgeous blush pink, nude and rose gold trimmed shoes for brides for this very reason.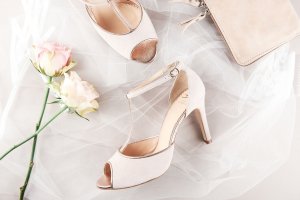 4.   Price …….. when you set a budget for your dress set one for your wedding shoes and accessories too! They really can make or break your look. However budget price doesn't necessarily mean a budget look,  shop around and be patient …… if you've got your heart set on something beyond budget join the suppliers mailing list and keep an eye out for special offers and deals, or think what you can do to make it happen, perhaps save on something else less important in your wedding budget, after all a girls gotta have great shoes!
5. Buying online …….with things as they are it's not easy to go out out shopping and during Lockdowns it's downright impossible! and if you're short on time it can be a great option.
6.   Personality ………. Finally I always advise my brides to express their personality through their wedding shoes! If you're all about sparkle then here's your chance to go all out! Or if you love a statement flower then go for it. Just because you're wearing a white or ivory dress you don't have to wear ivory shoes,  red, pink, blush, blue, it's up to you, there is no right or wrong, it's your wedding day! So if blue is really your fave shade then choose a fabulous pair of blue shoes that can double up as your 'Something Blue'. The choices are endless, just make sure your shoes really are 'you'!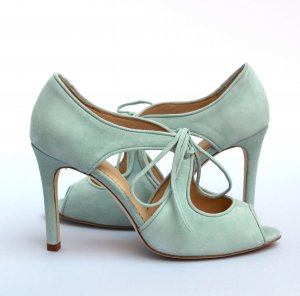 Hopefully this advice will help you to be super stylish and comfortable on your wedding day, your shoes should suit your personality and you'll be able to dance the night away in them too, oh and of course every time you slip them on with your jeans after the big day you will be filled with happy memories …. Worth a little effort ? I think so!