'Something Blue' Wedding Shoes
Wedding Traditions
Most brides seem to enjoy embracing wedding traditions and rituals in some form, even if their weddings are anything but traditional.
Something old, new, borrowed and blue can become quite a mission for some brides but it also adds to the fun of preparing for the big day. Going along with the rhyme is said to bring good luck on the wedding day and who doesn't want that.
The 'old', 'new' and 'borrowed' part is generally pretty easy, new dress, old pair of earrings and a borrowed piece of jewellery from a family member… tick, tick, tick all done! But the 'Something blue' can be a bit more challenging.
This season blue is a major trend in bridal, with many bridal designers incorporating delicious shades of blue into their collection so you may want to go all out with your blue theme, but if that's not for you there are lots of other options. Many wedding dress companies add a tiny blue ribbon bow somewhere inside the dress, or then there is the lace garter which can include a touch of blue, and of course you could add a subtle tinge of bluey lilac into your bridal bouquet………..the options are endless really, but what will you choose?
Not a traditionalist?
Want to go along with the tradition without being too traditional? Then a beautiful pair of Something Blue wedding shoes could be just the ticket. Yes blue wedding shoes…. I'm not talking the kind you want to hide away so nobody sees, I'm talking shoes you want to shout about, they can make a real statement about your personality, so channel your inner Carrie Bradshaw, she certainly went for it with her royal blue Manolo's, and if you (like me) are a shoe lover then why wouldn't you? This is the perfect opportunity to spoil yourself, whether it's a pair of sparkly designer sandals you've lusted after for ages, a cute pair of blue trainers or flip flops you love or you treat yourself to a custom pair of Something Blue wedding shoes designed especially for you, this is your wedding day, you can wear what you want. And just because I really feel the need to say this…… no your shoes do not have to match your dress, it's one of those questions I get asked all the time, and my answer is always the same, no your shoes don't have to match your dress, it just needs to work together for you, no-one else, just you.
Colour
Well obviously there are hundreds of different shades of blue from pretty pale powder blue to rich cobalts or dark navy and everything in-between. There is no right or wrong shade for your wedding heels, choose one you love, it's as simple as that really. From the iconic royal blue Manolo court shoes to sumptuous navy velvet courts the choices are endless.
We recently made a pair of custom wedding shoes for a bride who was getting married on the beach in Australia, she sent me pics of her fiancé's fabulous slate blue linen suit and we picked a shade that worked really well with it, it wasn't matchy matchy, it complemented it, and we dyed silk ribbon ties to coordinate with it, so if you fancy going for a custom pair of wedding heels you can opt for a truly unique super gorgeous pair just for you.
There are lots of beautiful blue shoes out there from very affordable high street options right through to designer, that will look stunning with your wedding dress and just as cool with your jeans afterwards, so it's a win win! Personally, I think it's worth investing in a pair of wedding heels that you truly love and will want to wear again and again, whether they're flats or sky high heels choose a pair that make your heart sing and say something about you.
Shoes to make your heart sing
There's something really lovely about seeing a bride, shortly after the ceremony lift up the hem of her dress to show her girlfriends those stunning heels she's been keeping secret for months, and enjoying all the oohs and aaaahs. So listen to your inner style queen, be daring and put your best (blue) foot forward! Be brave you won't regret it.
My Top 5
So, here are my top 5 Something Blue shoes for the big day from high street to designer……I couldn't leave out Carrie Bradhaw's iconic wedding shoes from the Sex and the City movie, as I'm a huge fan of Manolo Blahnik, but what will you choose? Will they be powder blue or navy, embellished or classic courts, boho or luxe ……………… the choice is yours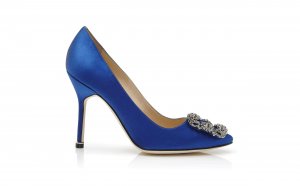 Harriet Wilde approx £530