Are you a pearly queen? Or not sure how to wear pearls on your wedding day?
It's true pearls have been worn by brides for a very long time, but that doesn't mean they're too traditional or dated for today's modern brides, quite the opposite in fact. Pearls have now edged their way into just about every part of the wedding ensemble from the coolest of headbands to perfect pearly peep toes.
Pearls worn by the bride were traditionally said to symbolise purity, love and harmony, and were said to be an omen for a long and happy marriage, so there are several good reasons for adding a touch of pearly loveliness to your look for starters, plus they are elegant, stylish and beautiful so what's not to love..
When brides ask about pearls,  I invariably picture the stunning pearl choker around Audrey Hepburns neck in Breakfast at Tiffany's, and who wouldn't love a bit of that on their wedding day! Well, we may not all be as lucky as Audrey but here are some contemporary ways to incorporate some gorgeous glossy pearls into your bridal look.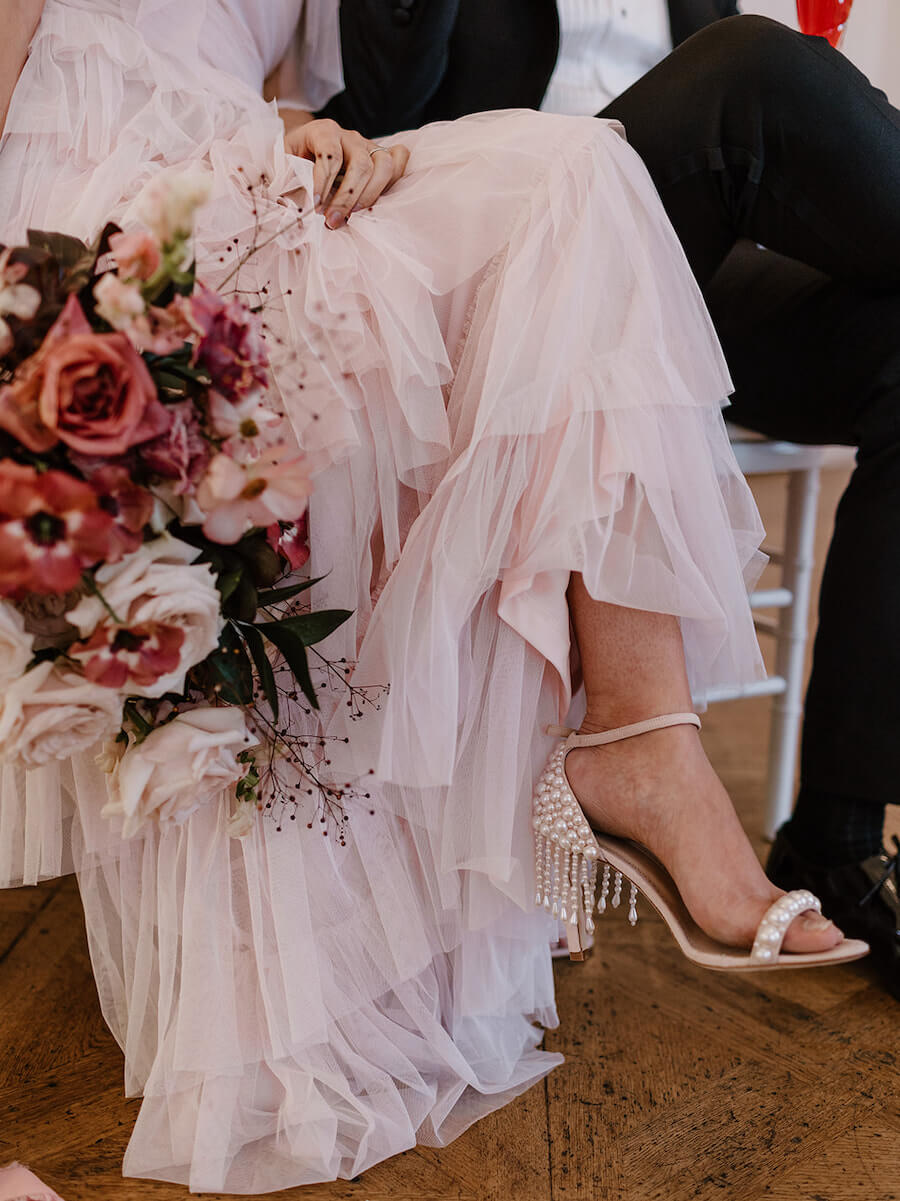 Something Borrowed
Is there a piece of precious pearl jewellery in your family? Perhaps something that belongs to your Mum, Grandma, or another family member as this would be perfect for your 'Something Borrowed', what could be lovelier, not only will it look stunning but it will also add a personal touch to your look. It could be a necklace, earrings, bracelet, just about anything, I've also known the groom to wear a pearl tie pin which is a family heirloom, also joining in with the tradition, or you might want borrow your sister's pearl bracelet or best friend's pearl ring, it doesn't have to be an heirloom to be 'borrowed' and can really mean a lot to the person loaning it to you, making them feel like they've played a special part in your wedding day.
Pearly nails
If you're not planning on wearing pearls elsewhere your manicure can be a cool contemporary nod to the pearl trend, with either a pearl effect polish for super pearly nails or even tiny pearls bonded onto your nails, often onto a pale pink or French manicure, sometimes with a few diamantés added in for extra sparkle!
This is a really cool way to add in the pearl trend.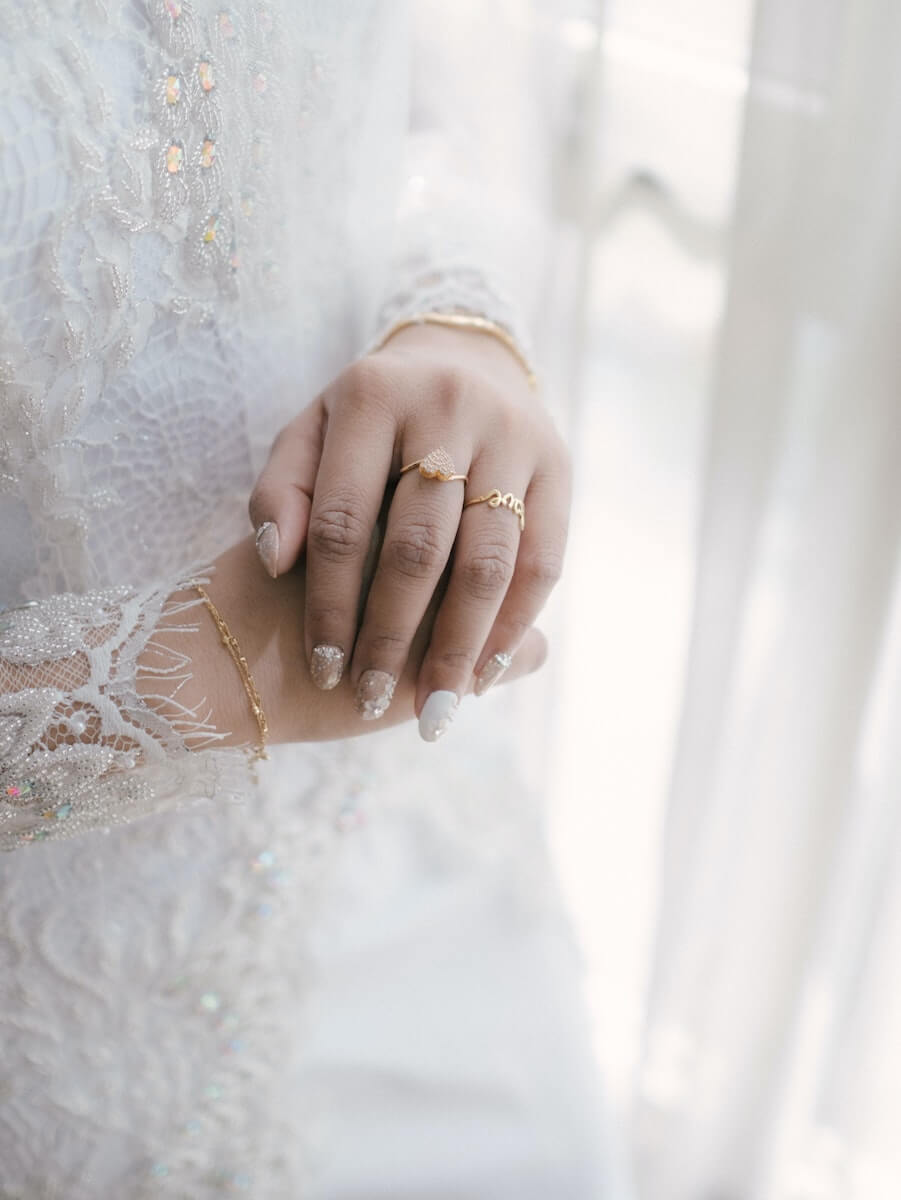 Pearl tiaras and headpieces
Pearl headpieces never go out of fashion! They change and evolve but there is always a sleek and contemporary version for every season…. and a bride wearing a pearl headpiece is one of the most classic images many brides imagine when they first start thinking about their wedding day. 
From combs to headbands, vines to tiaras there are a myriad of polished pearly options available, so whether you've got your heart set on a dainty and elegant vine or you're on the hunt for something a little bit 'extra' it's out there, pearly perfection awaits! Not sure what will suit you?  no problem, there are some wonderful designers out there who will work their magic on a bespoke piece for you too.
Pearl veils
From cute 50's bouffant veils with pearl embellished combs to cathedral length veils with a delicate pearl scattering there are lots of options out there.
Whether your dress is sleek and elegant, softly Boho or you're channeling your inner Disney princess, pearls will always work and there is a pearl veil  out there for every dress. There is something innately romantic about a pearly veil.
Pearl Jewellery 
Aside from borrowed or heirloom pearls, your wedding day could just be the best excuse ever  to treat yourself to a gorgeous pearl necklace or a pair of stunning pearl earrings that you can treasure forever and will always remind you of the most special day. Something truly beautiful that will last forever.
There are some amazing jewellery designers  who will work with you to create something gorgeous and bespoke, whatever your style ……and if you prefer to shop 'off the shelf' there are plenty of stunning pearly pieces just waiting for you at all price points from budget to lavish.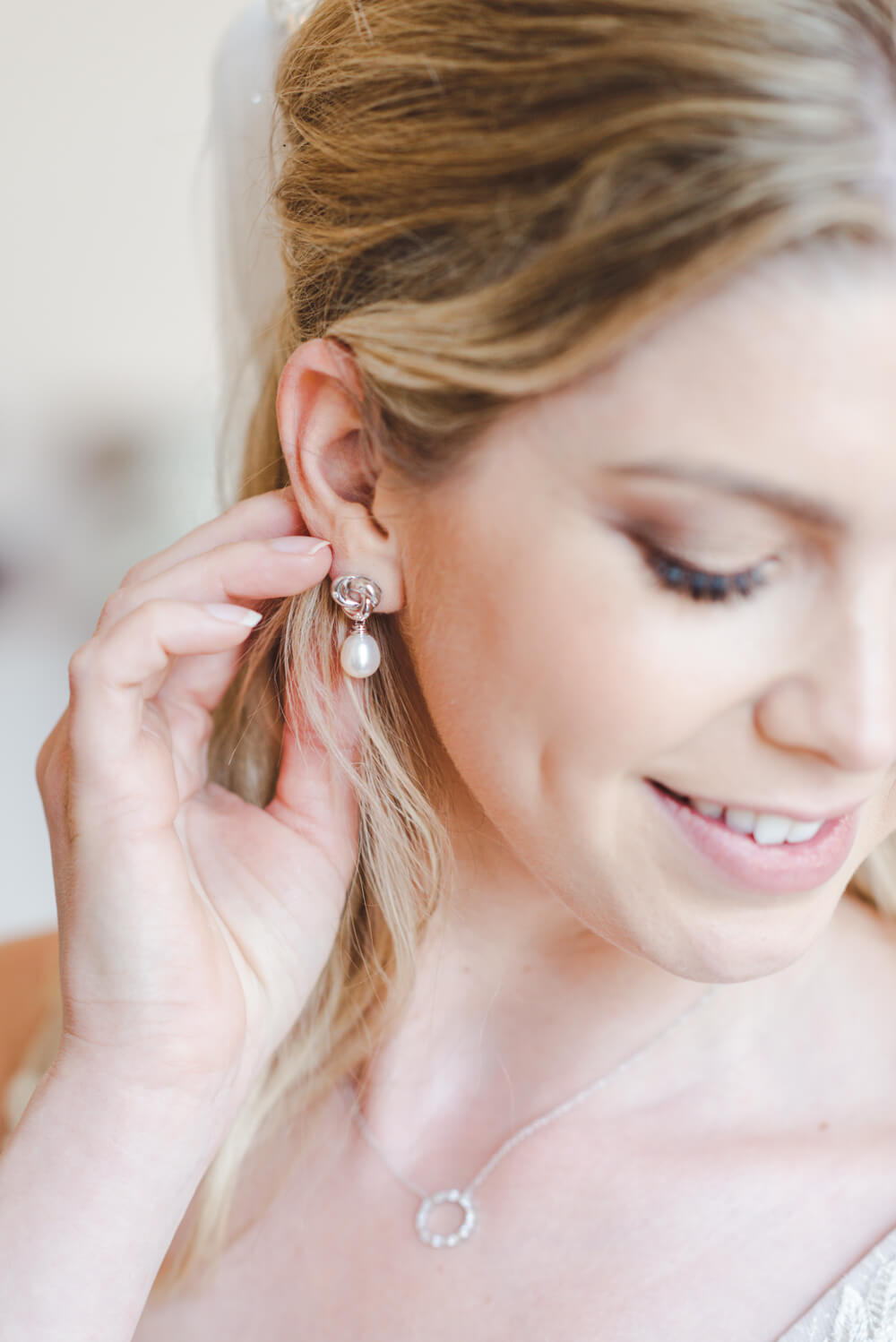 Pearly wedding shoes 
As a shoe designer it'll come as no surprise that pearly wedding shoes would certainly be at the top of my wish list! I absolutely love designing pearly shoes!
Pearls add lustre, texture and style to your wedding heels and there are endless options available from timeless, sophisticated pearl embellished courts to fun pearly crocs and trainers, or beautiful pearly mules for maximum impact. If you're on a budget or you are re-purposing an existing pair of shoes then there are lots of pearl embellished shoe clips that can be added for the day, to add a touch of luxe and lustre on the big day. Pearls  are always on trend and not just for weddings, pick the right pair of shoes and they will look just as chic with your jeans as your wedding dress, so it's worth investing in something super gorgeous that you will want to wear again.
When it comes to wedding shoe shopping pearly gorgeousness is the way to go!
The Dress
Always a fashion staple pearls are often found on the wedding dress itself as well as on the  accessories, and the 'Pearlcore' trend is set to continue for many years to come.  For brides who love detail and embellishment pearls add glamour, style and texture, for a contemporary look that's more about luxury and elegance than sparkle and glitz.
Pearls appear in so many forms on bridal gowns, from 'Gatsby' style shimmery beaded panels, to cute mini dresses with statement pearly bows. Pearl buttoned backs are a popular choice on high necked gowns, often in fabulous lace, and pearl back drop jewellery can also add interest to the back of the dress, and as every bride knows you are on show from every angle on your wedding day, especially as you walk down the aisle, so it's almost as important to look good from the back as the front.
If you opt for a more decorative pearl embellished gown you may want to dial down the drama with your accessories and veil as naturally the dress may well be the star of the show, unless of course you are aiming for a maximalist look, in which case more is definitely more and I am all for it!!!…….
If you're opting for more subtle pearl detail, perhaps on the bow or a belt, or by adding in a cute pearly cape over your shoulders, then adding in pearls with your other accessories can really add bring your whole look together.
So, will it be a pair of pearl embellished slippers or earrings, or a full on shimmery beaded dress? However and wherever you wear pearls on your wedding day you cannot go wrong!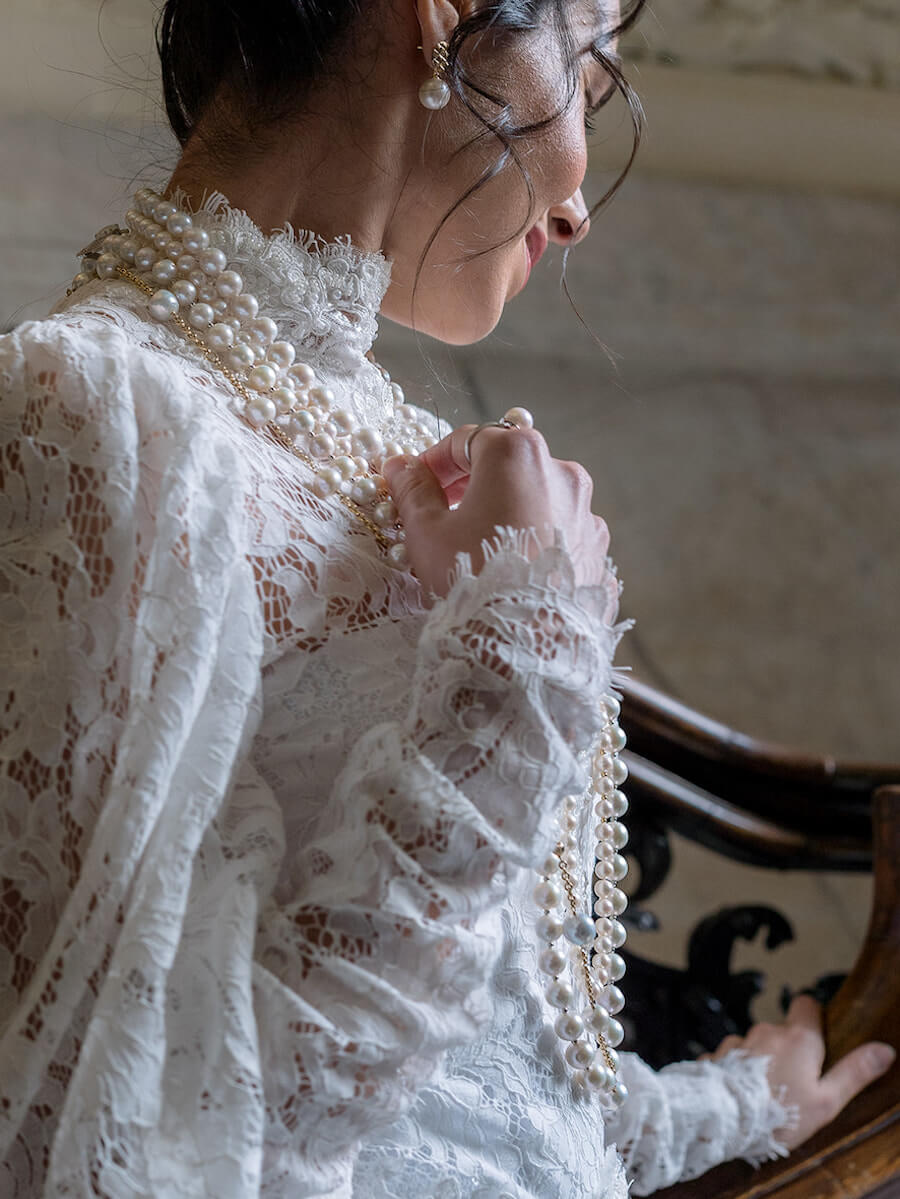 So let's finish where we started with the beautiful Audrey Hepburn, my personal favourite pearly queen………..and a few other style icons who were known for their love of pearls. If I haven't convinced you that pearls are perfect for your wedding day, perhaps they will!
'Pearls will dress up any outfit' Audrey Hepburn
"I favor pearls on screen and in my private life." Grace Kelly 
"The pearl is the queen of gems and the gem of queens" Grace Kelly
"Pearls are always appropriate." Jackie Kennedy
"A woman should have ropes and ropes of pearls " Coco Chanel