Why you should choose a beautiful Cotswold Winter Wedding
Nestled within the enchanting Cotswold hills lie the prettiest destinations for couples seeking to tie the knot in a truly picturesque setting. As a luxury wedding shoe designer living in this charming region, I totally understand the allure of the Cotswolds, with its idyllic honey coloured villages and rolling landscapes, it's not only a wonderful place to live it also transforms into a magical winter wonderland, the perfect backdrop for an unforgettable winter wedding, and yes, I can speak from experience, I got married between Christmas and New Year in the charming Cotswold town of Chipping Campden and it was the best day ever, magical, festive and memorable.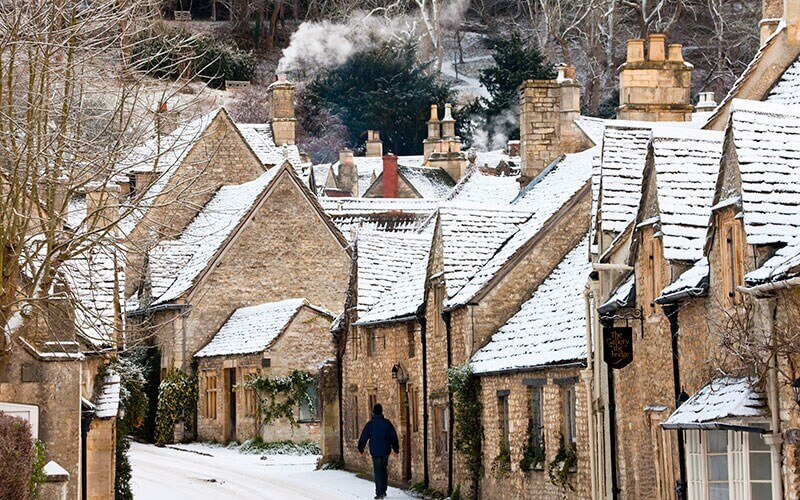 Cotswold Charm
The Cotswolds is renowned for its quintessential English charm, characterised by honey-coloured stone cottages and lush greenery. During winter, this charm takes on a new dimension as the countryside glistens with frost, the hilltops are often iced with snow and the villages adorned with twinkling lights. Quaint village pubs offer a warm welcome and charming high streets are decked with festive decor, so why not head on over for a weekend and check out what's on offer for your Cotswold winter wedding! For couples seeking a cozy and intimate wedding experience, the Cotswolds truly is the perfect location.
The Perfect Wedding Venue
Choosing the right venue is crucial for your Cotswold winter wedding. We have everything here, from historic manor houses, rustic barns, and quaint churches, not to mention a myriad of elegant hotels and stately homes, so whatever your style your perfect winter wonderland awaits! The Cotswolds exudes timeless elegance that complements the season and many of the hotels and manor houses feature roaring log fires and grand interiors that create a warm and inviting atmosphere for you and your guests.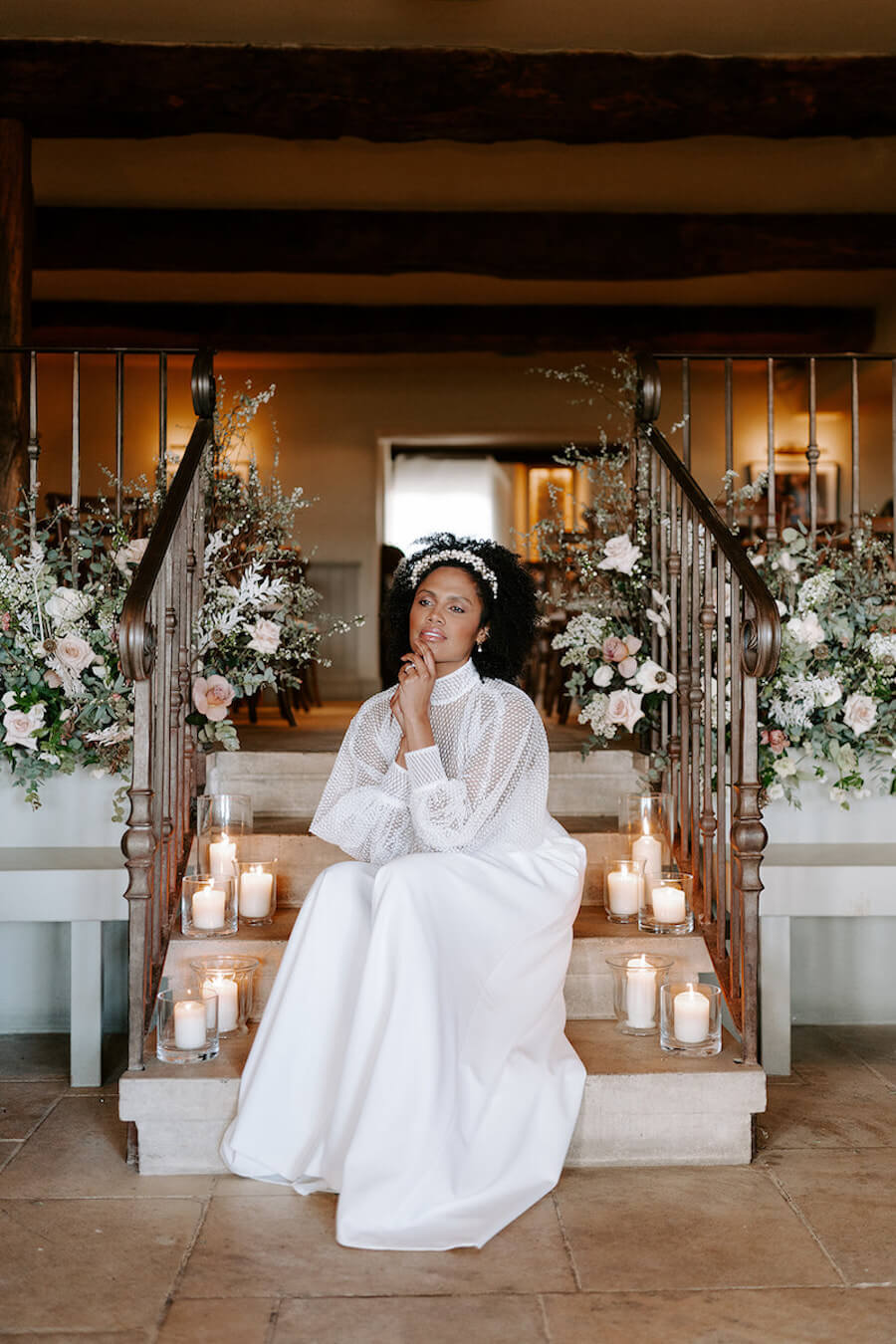 Culinary Delights and cozy accommodation
Winter weddings in the Cotswolds are the perfect opportunity to indulge in delicious, seasonal cuisine. The region boasts some of the finest farm-to-table restaurants and chefs. Imagine treating your guests to a sumptuous feast featuring locally sourced, warming dishes like roast meats or vegan treats, locally grown vegetables, and delectable desserts, creating a memorable experience for your wedding day, and with so much available direct from farm to table in the Cotswolds you can feel comfortable about doing  your bit for the environment too
When it comes to accommodation for your guests, the numerous charming inns, boutique hotels, and cozy cottages offer comfortable and unique options for your guests so that they too can enjoy the festive holiday vibe, and many of the manor houses and country house hotels offer packages with tasteful additional rooms included so if it's more of a grand house party vibe you're after there are lots of options.
Winter Wedding Decor
When planning your beautiful Cotswold winter wedding  decor why not embrace the magic of the season. Work with your venue or wedding planner to create the perfect seasonal mood, taking into account seasonal florals and greenery in addition to your own personal themes and ideas.
For a contemporary look, white blooms, pinecones, and seasonal greenery can create a lovely sense of harmony and balance, adding tall white candles and evergreen garlands creates a fresh, modern look, and incorporating elements like twinkling fairy lights, and candleabras adds atmospheric lighting to your seasonal tablescapes.
If it's colour you're inspired by rich, deep hues such as forest greens, reds, rusts and burgundies, reminiscent of the Cotswold hills' wintery beauty could be the perfect choice . Seasonal colours and details like these enhance the cozy and romantic atmosphere,  creating your very own winter fairy tale. Whatever your chosen colour palette there will be a way of styling it to be sympathetic and complementary to the Cotswold location.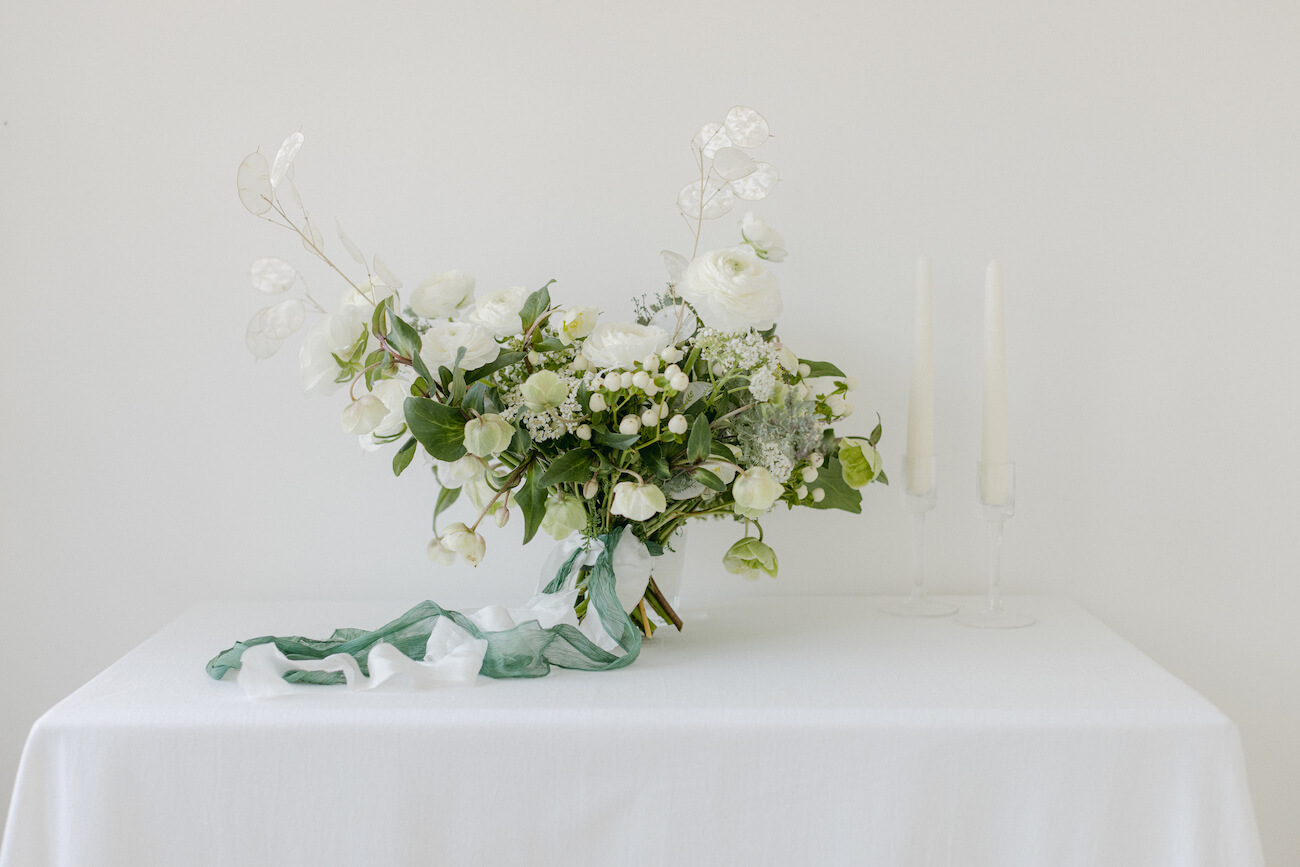 Stunning Wintery Walks
One of my personal favourite activities in the Cotswolds is exploring the stunning landscapes on foot. Winter walks through the Cotswold hills, with their serene views and wintery beauty, can make for memorable pre-wedding or post-wedding experiences so don't forget to pack your walking boots as well as your wedding dress!  These walks not only provide a breathtaking backdrop for photographs but also offer a serene escape from the wedding hustle and bustle if you need a moments peace in the run up to the big day, the beautiful countryside provides the perfect escape and what a lovely way to start married life with a bracing stomp up the hills with your loved one, followed by a hot chocolate or a glass of chilled champagne.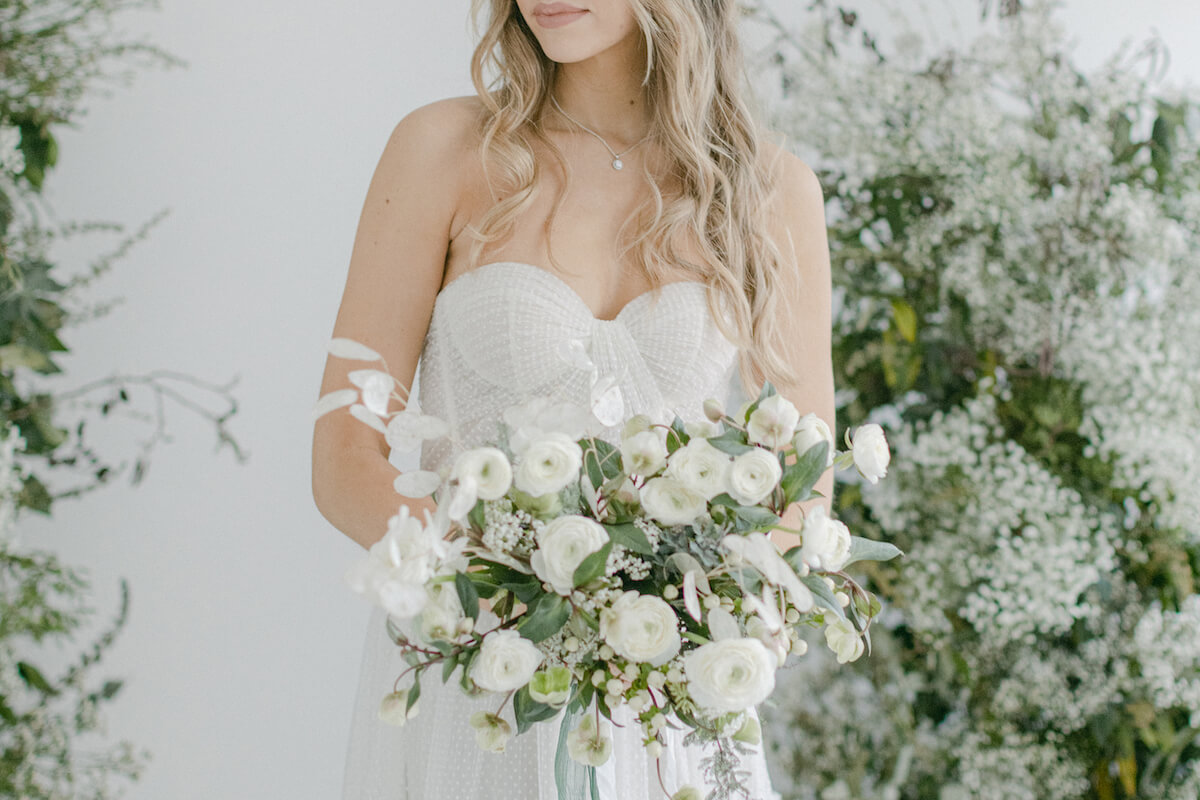 A Bespoke Experience
Here in the Cotswolds we like to work directly with couples to give them a truly unique and personalised wedding day, I would encourage you to embrace the bespoke approach in every aspect of your wedding. Work with local artisans and suppliers to add those personal touches that reflect your unique style and love story. This attention to detail can elevate your winter wedding into an exceptional and unforgettable event. Your venue will no doubt recommend local suppliers such as florists, decorators, cake makers etc or it may be part of a package provided by the venue.
Every detail from the venue, the ceremony, the food and the florals, needs careful consideration, not forgetting the dress and the shoes! As a luxury bespoke wedding shoe designer, I understand the importance of comfortable and stylish footwear for your special day, especially in Wintertime. Winter weddings in the Cotswolds call for the perfect pair of custom shoes created to match the seasonal theme and your personal style….. you know where to find me!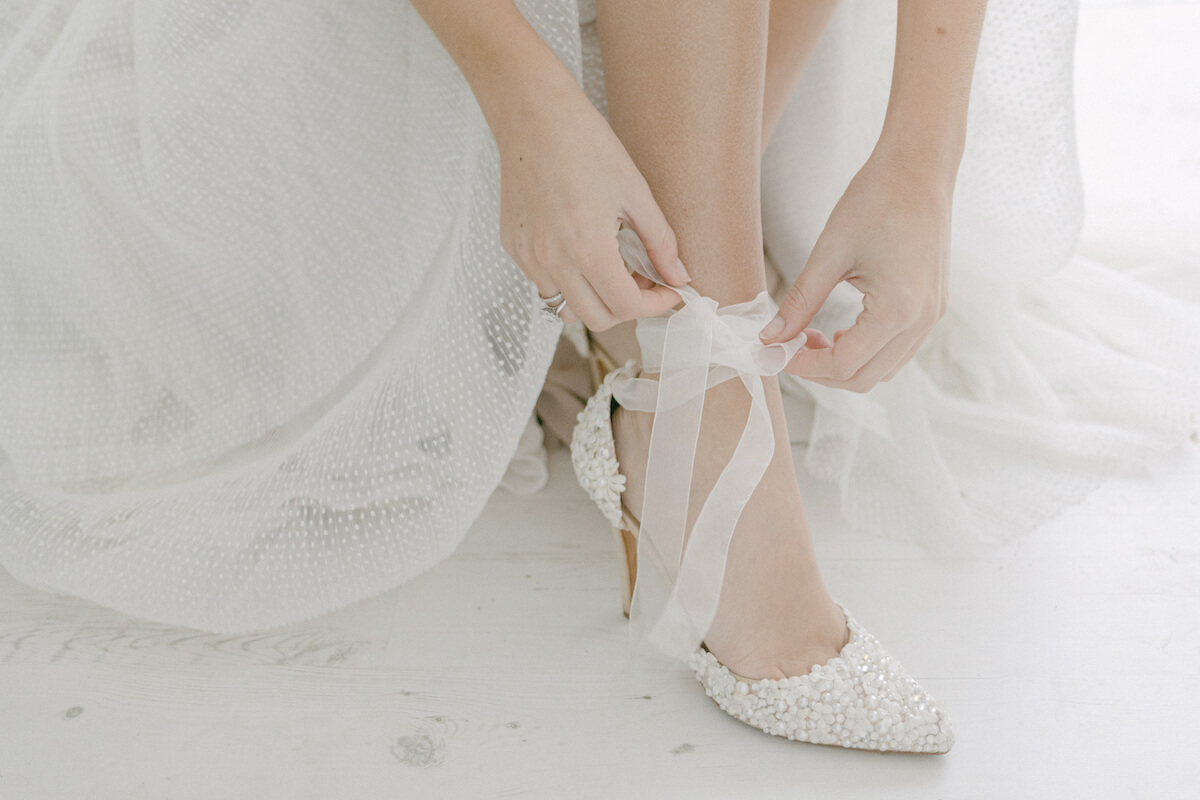 A Cotswold Winter Wedding: Timeless and Enchanting
A beautiful winter wedding in the Cotswolds is about so much more than the ceremony; it's an enchanting experience. The region's beauty, charm, and timeless elegance come together to create a magical setting for your special day. As you walk down the aisle in your bespoke wedding shoes, surrounded by the picturesque landscape of the Cotswolds, you'll create cherished memories that will last a lifetime.
A winter wedding in the Cotswolds is a testament to the region's enduring allure and natural beauty. It's a chance to create a wedding that is as unique as your own personal love story. The Cotswolds, with its enchanting landscapes and warm, welcoming atmosphere, provides the perfect canvas for a winter wedding that will be forever etched in your hearts. For an experience that combines elegance, romance, and the magic of winter, look no further than the Cotswolds, where your dreams of a fairytale wedding become a reality.