It's no secret that I live and work in the beautiful Cotswolds, so I think I am pretty well-placed to talk about the dreamiest Cotswold wedding venues. Yes, I do tend to harp on about The Cotswolds quite a lot, and yep you could say I am a little biased – but with very good reason.
I live between Chipping Campden and Broadway, in other words the North Cotswolds, and we are surrounded by picturesque countryside, quaint honey coloured villages and some of the loveliest Cotswold wedding venues. It really is beautiful, and the perfect spot for your wedding.
Whenever I need a refresh or a change of scenery, I love to head out for a walk or drive into the pretty Cotswold stone villages that I'm lucky enough to be surrounded by. I wasn't born here, but after spending a little time here in my 20s, I was totally won over and have never left.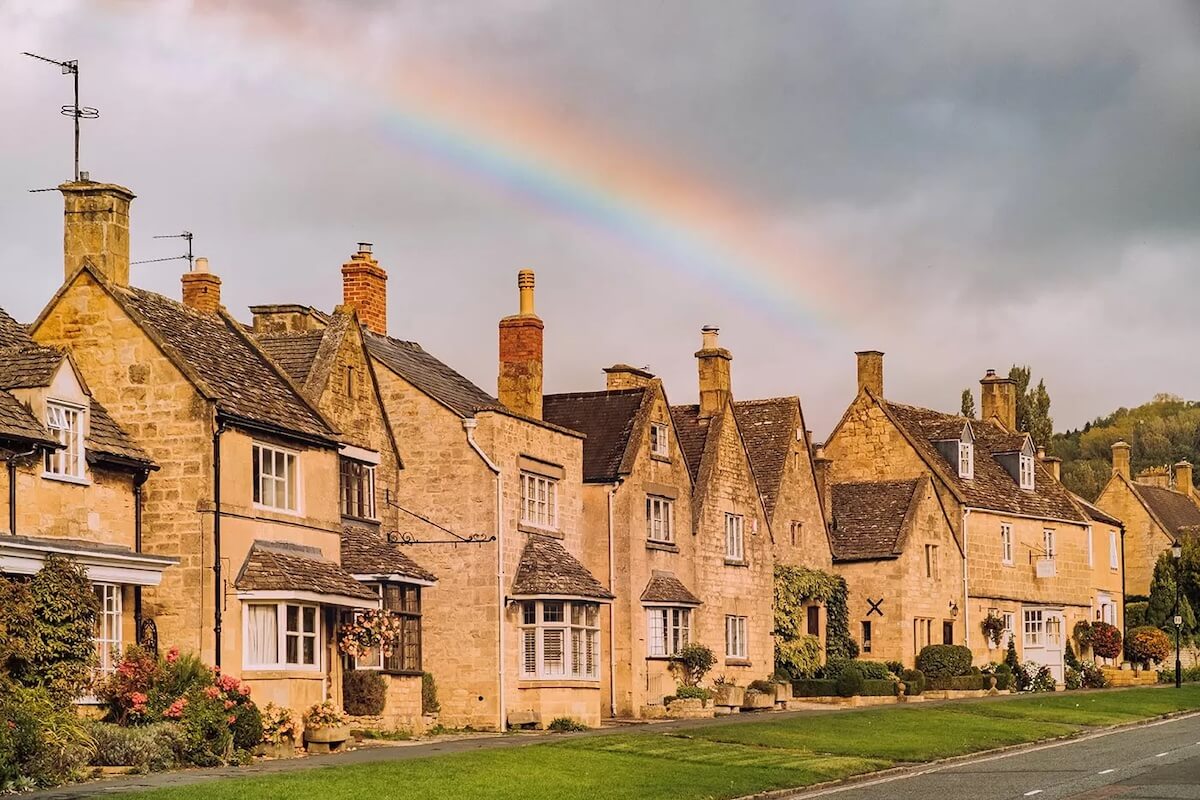 Why get married in The Cotswolds?
It was on a recent walk (in search of tea and cake, if we're being totally honest) that I came across a wedding. The bride and groom were coming out of St James' church in the autumn sunshine in Chipping Camden, and I was reminded of just how many stunning wedding venues there are for a super romantic Cotswold wedding. 
The Cotswolds are easily reached by train and road, so access is good for those all important family and friends, and of course the wedding planning – don't be put off if you don't live in the area.
If you're in the process of planning your wedding and are looking for wedding venues, I urge you to venture out to the Cotswolds and make your own mind up. I'm confident that, like me, you will fall for this gorgeous part of the country, and besides, it's a great excuse for a lovely weekend away in one of the prettiest parts of the country.
And in case you're wondering, yes of course I got married here.
We held our Cotswold wedding in December, between Christmas and New Year, so it was an utterly magical winter wedding. The streets were dressed with Christmas trees and the high street adorned with white lights, the shop windows were bedecked with festive sparkle, and everyone who travelled to the area for the wedding was totally caught up in the loveliness of it all.
It's actually been really difficult picking just 5 wedding venues, as I could go on and on – there are so many to choose from. This 5 are all particularly wonderful for one reason or another, and will give you a taste of what is on offer, whether you're planning a small intimate wedding ceremony or something much bigger and grander, we've got you.
1. Lapstone Barn for a romantic Cotswold wedding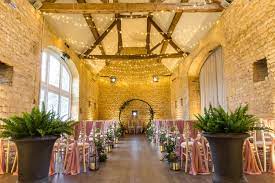 Dreaming of a romantic barn location set in the beautiful Cotswold hills? Look no further, Lapstone is a stunning honey-coloured 18th century Cotswold stone barn in the heart of boundless countryside on the outskirts of the pretty market town of Chipping Campden, perfect for your friends and family to find overnight accommodation too.
This charming Grade-II listed barn with oak floors, thick timber beams and natural acoustics oozes Cotswold character and can house up to 200 guests. The interior is stylish and elegant with floor-to-ceiling glass windows which flood the barn with light and create a warm and welcoming atmosphere. It looks breathtaking when dressed with twinkling lights and fabulous florals.
There is also a lovely space for the bridal party to get ready on the day in the charming hayloft – a luxurious dressing room space, especially for you.
Set in attractively landscaped grounds nestled amongst the rolling fields, the English courtyard garden, gentle fountain and flowerbeds bursting with lavender and roses, and views across the countryside make it a picture perfect spot for your photographer to capture the day of your dreams.
As if that's not enough, Lapstone will welcome your four-legged friends along for the day too, so if you want to include your dog on your wedding day, this may be the perfect choice for you.
Visit the Lapstone Barn website.
2. The Feathered Nest for a traditional yet contemporary wedding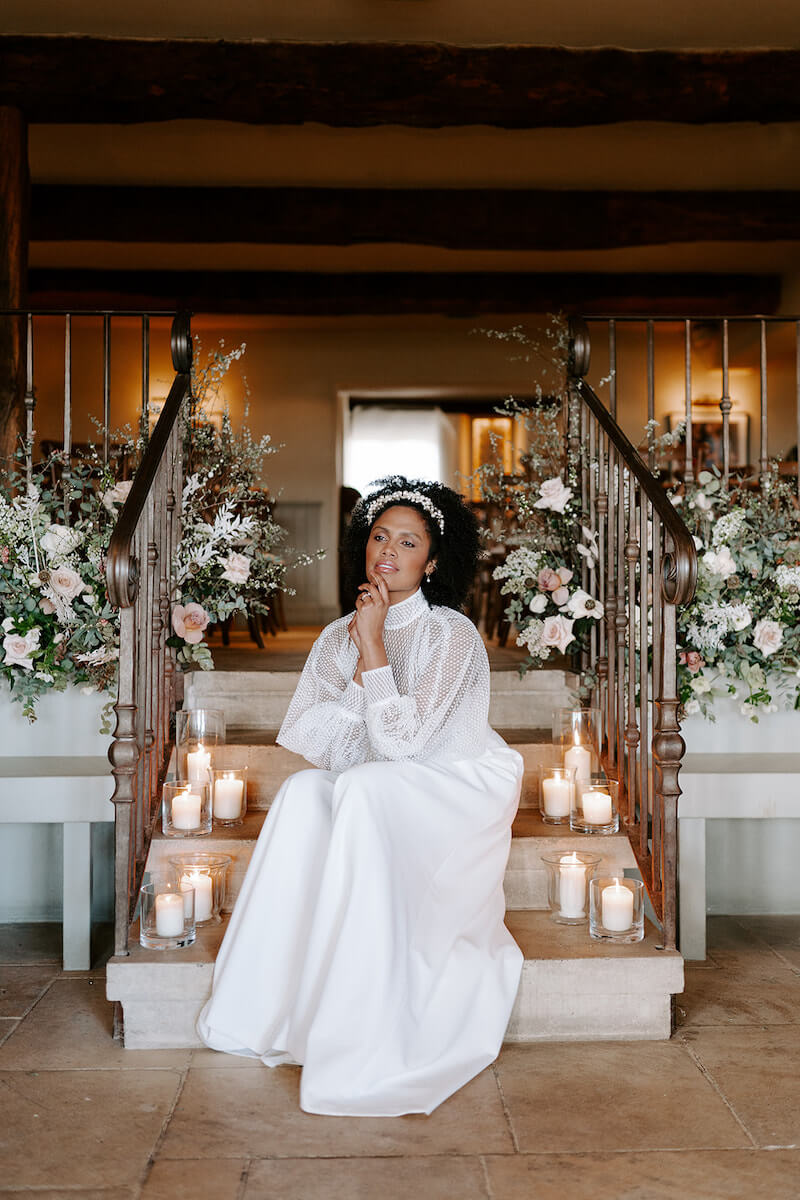 In an exquisitely picturesque setting, The Feathered Nest is truly sought after for Cotswolds weddings. On your first visit the sumptuous views across the Cotswolds down the Evenlode valley will take your breath away.
It's the perfect location for a memorable and intimate Cotswold wedding. Located in one of the tiniest and prettiest Cotswold villages between Burford and Stow on the Wold, tucked away on the edge of the village is The Feathered Nest.
This stylish venue has the ambience of a traditional Cotswold Inn married with all the contemporary comforts you could wish for, including sumptuous guest rooms and a luxurious cottage for a romantic Cotswold hideaway after your guests have departed.
Licensed for services, the beautiful garden room and the light and airy dining room lead into the stylish gardens, the perfect spot for your photographs and to enjoy a glass or two of champagne with your guests after the ceremony.
The food at The Feathered Nest is something to behold too, with the excellent front of house team striving to deliver culinary excellence whilst you and your guests relax and enjoy the beautiful surroundings.
A true hidden gem, this charming venue is especially perfect for an intimate and stylish Cotswold wedding.
Find out more about weddings at The Feathered Nest.
3. Cowley Manor
for versatile opulence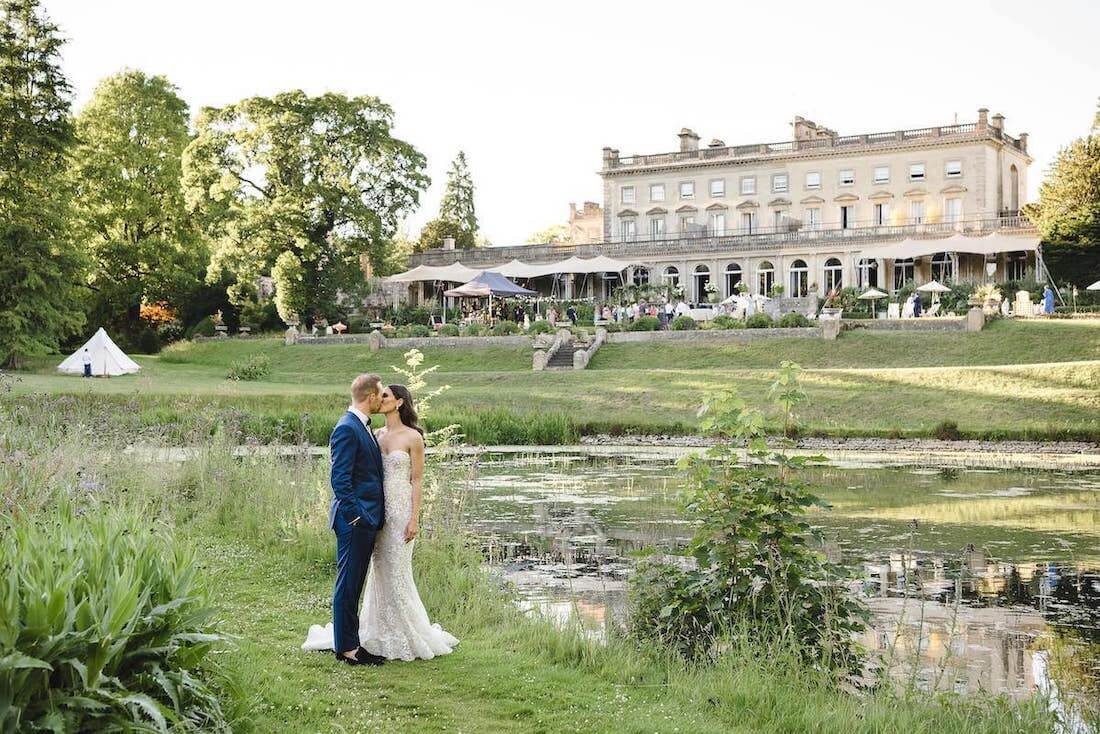 Timelessly stylish, Cowley Manor is a contemporary boutique hotel, with its stunning Italianate architecture, chic interiors and opulent features – there are many reasons to recommended Cowley as a grand venue for your big day.
If you're planning a larger wedding, Cowley Manor can offer exclusive use of the entire venue, including 30 bedrooms and an award winning spa, with both indoor and outdoor pools. This really is a place to party with your loved ones.
Cowley boasts a pretty 12th century church on the estate if you're dreaming of  a church wedding, and for smaller weddings there's the Garden Room. It can be used alone, or combined with the Library and Billiard Room to form the Terrace Suite, for hosting an intimate luxury wedding for up to 40 guests.
There is also the option of a stylish marquee for larger weddings, which can be set on the top lawn, looking up towards the manor house with sweeping views of the magnificent grounds and gardens.
This fine hotel in a spectacular setting offers a myriad of options, whatever the size of your party, Cowley is both a luxurious and versatile option for your Cotswold wedding.
Find out more about weddings at Cowley Manor. 
The Bodelian Library for a magnificent historical wedding venue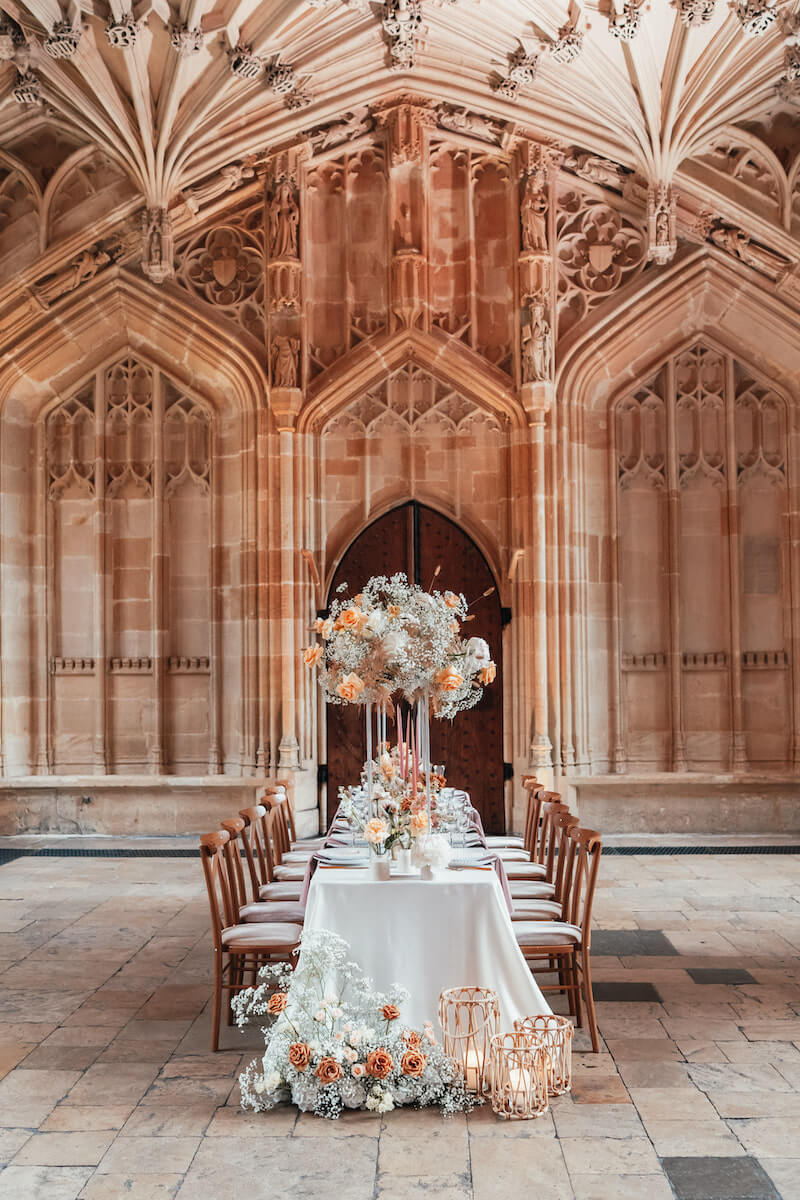 Ok, perhaps I'm stretching the definition of where the Cotswold boundaries lie, but I live in the Cotswolds and we class Oxford as part of it, so there we are. And to be honest, I just couldn't bear to miss out the wonderful Bodleian Library.
In the heart of Oxford, the city of the dreaming spires, is The Bodleian Library – one of the oldest libraries in Europe, and now available as a wedding venue. Steeped in history and old-world charm, the Bodleian is a truly romantic setting for your big day.
Step through the magnificent ceremonial doors and you will not be disappointed. Take in the intricate details, fine woodwork and unique ambience of this amazing space and literally feel the history surrounding you.
The stunning buildings dating from the late 1600s offer a spectacular setting for any wedding celebration. Wow your wedding guests with an unforgettable day in some of the finest, most historical buildings in Oxford.
There are various options depending on the number of guests, from small and intimate to much larger, grander affairs. Host an unforgettable reception in the awe inspiring Divinity School, and celebrate with cocktails in the historic Old Schools Quad. Whatever you choose, you can be assured of a magnificent and memorable day at the Bodleian Library.
Visit the Bodleian Library website.
5. Norton Grounds Farm for a modern rustic Cotswold wedding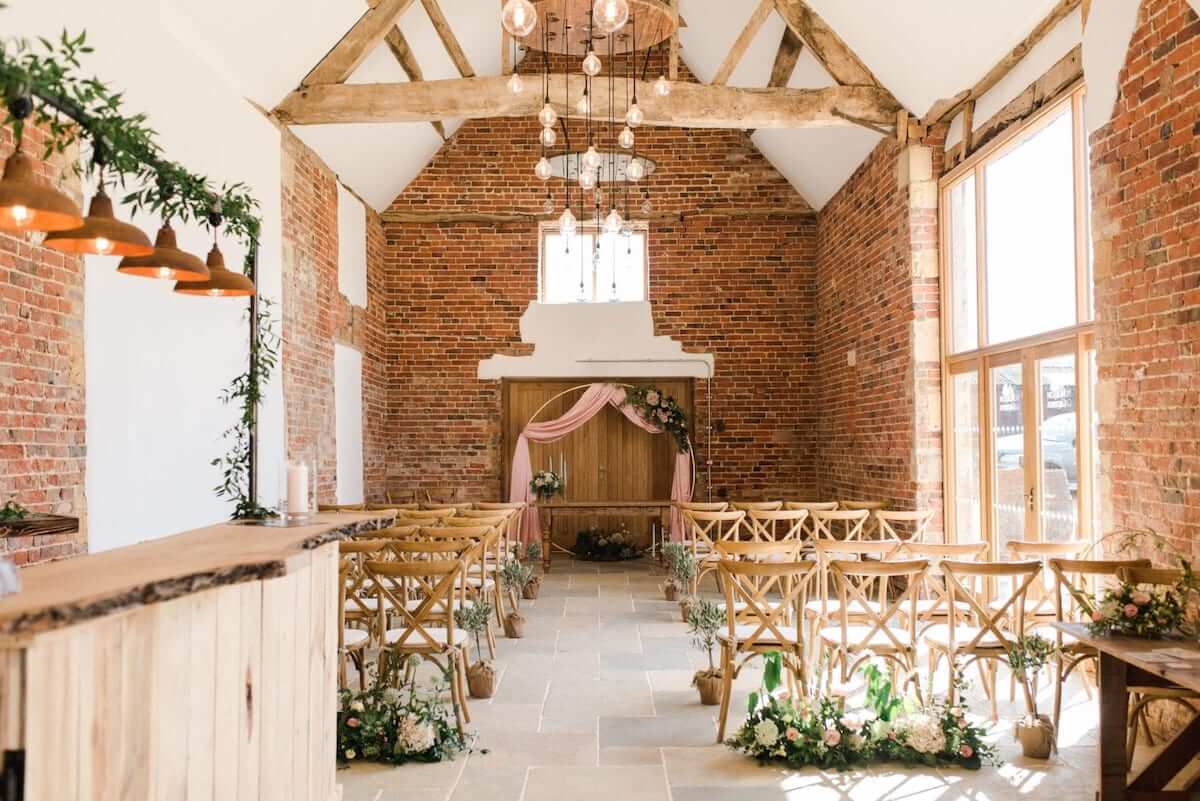 If you're a country bride at heart or love the idea of a rustic barn setting on a working farm, Norton Grounds will not disappoint.
Enjoying panoramic views of the Cotswolds over miles of open countryside, Norton Grounds has been sympathetically restored to a very high standard, with all the modern luxuries you would expect, yet keeping all of its original features, creating a modern, rustic, feel throughout.
You will enjoy sole use of Norton Grounds for your big day, with flexible spaces so you can choose how it works best for you. Make your wedding a whole weekend affair – you have exclusive use of the accommodation for 3 nights, sleeping up to 20 in charming onsite cottages if required.
The wedding ceremony itself can be held in the beautiful 18th Century Cotswold stone threshing barn, with use of the barn or marquee for the reception and the all important dancing.
If you love the idea of an outdoor ceremony, there is the option of a blessing on the farmhouse lawn, and the English country gardens offer the ideal spot to relax and entertain your guests and take beautiful photographs.
Norton Grounds is a superb spot for a contemporary country wedding. In the words of the owners, "we want you to settle in, relax and enjoy your stay!" – what could be more perfect?
Learn more about weddings at Norton Grounds.
If this has whetted your appetite for a Cotswold wedding, then I seriously urge you to head on over, soak up the Cotswold atmosphere and take a look around. After all, this is just the tiniest taster of what this stunning area has to offer.
I guarantee once you have driven through the beautiful villages, taken in the honey coloured cottages, rolling hills and picturesque valleys, you too will be won over. It's not just chocolate box pretty, it's stylish and contemporary too, with a wealth of great places to stay, eat, drink, walk and relax,.
And if you've already chosen your wedding venue, the Cotswolds is a seriously cool place for a hen weekend as well, but that's a conversation for another day…