Something blue wedding shoes
In my experience as a wedding shoe designer, I've learned that most brides enjoy embracing wedding traditions and rituals in some form, even if their weddings are anything but traditional.
There are so many traditions connected to weddings and marriage, from getting down on one knee for the proposal, giving the bride away, wearing wedding rings on a specific finger, and throwing confetti. But do you know what these traditions and superstitions signify?
We wanted to focus on one of the most popular wedding traditions – something old, new, borrowed and blue – and share some beautiful blue bridal heels that you could wear as your something blue on your wedding day.
Something old, new, borrowed and blue
The earliest recording of this popular Old English rhyme is in 1871, however, it is likely that it existed long before this. This superstitious rhyme was often followed closely, with the belief that it would bring a good and happy marriage.
Something old,
something new,
something borrowed,
something blue,
and a [silver] sixpence in her shoe.
Nowadays, although it's still a very popular wedding tradition in the UK and US, it is followed less for warding off evil spirits, and more for carrying sentimental tokens of love and giving a nod to history and family members.
It can become quite a mission for some brides to find all of the items, but it can also add to the fun of preparing for your big day. And if it turns out that these items really do bring good luck, then that's even better.
Something old
Traditionally, this was said to give protection for the baby to come. If you've inherited a beautiful piece of jewellery from your mother or grandmother, this would be the perfect item to wear – especially if it's a locket with a photograph of a family member, or your betrothed. You could even have a heart cut out of a sentimental item of clothing and sewn into your wedding dress.
Something new
The new item in this wedding tradition is said to symbolise optimism for the future – a token of hope. This is a pretty easy one to get, as you're likely to be wearing at least one item of new clothing, whether it's your wedding dress, wedding rings, or bridal shoes.
Something borrowed
Ideally, this would be an item borrowed from a happily married couple, for good luck in your marriage. This often takes the form of jewellery, but you can use your imagination
Something blue
This acts as a symbol of love, purity and fidelity – 3 key qualities of a good Old English marriage. It is also said to deflect the Evil Eye. Traditionally, this would take the shape of a garter, or you could wear blue jewellery, or shoes – more on those in a moment! Several wedding dress companies will add a tiny blue ribbon bow somewhere inside the dress, or you could add a beautiful blue blooms to your wedding bouquet.
And a sixpence in her shoe
The silver sixpence in a bride's left shoe is said to act as a ward against evil done by frustrated suitors – a little dramatic, if you ask me. It also symbolises prosperity, and lasting wealth. Sixpences were decommissioned in the UK in 1980, but many bridal shops sell them.
6 of my favourite blue wedding shoes
Personally, I think it's worth investing in a pair of wedding shoes that you truly love and will want to wear again and again.
Whether they're flats or sky high heels, choose a pair of wedding heels that make your heart sing and say something about you. After the wedding they will be a lovely reminder of that wonderful day every single time you slip them on, and hey this is the perfect opportunity to spoil yourself, whether it's a pair of sparkly designer sandals you've lusted after for ages, a cute pair of blue trainers or flip flops, or a custom pair of Something Blue wedding shoes designed especially for you.
It may not be staunchly traditional to have blue wedding heels, but if you're the bride, you can wear whatever you like!
Oh and just because I really feel the need to say this…… no your shoes do not have to match your dress, it's one of those questions I get asked all the time, and my answer is always the same, wear what you like not what you feel you ought to.
From powder blue suede to navy velvet, embellished to bespoke, there are a lot of beautiful blue wedding shoes to be found.
Let's take a look at my top blue wedding shoes.
Manolo Blahnik Hangisi, £945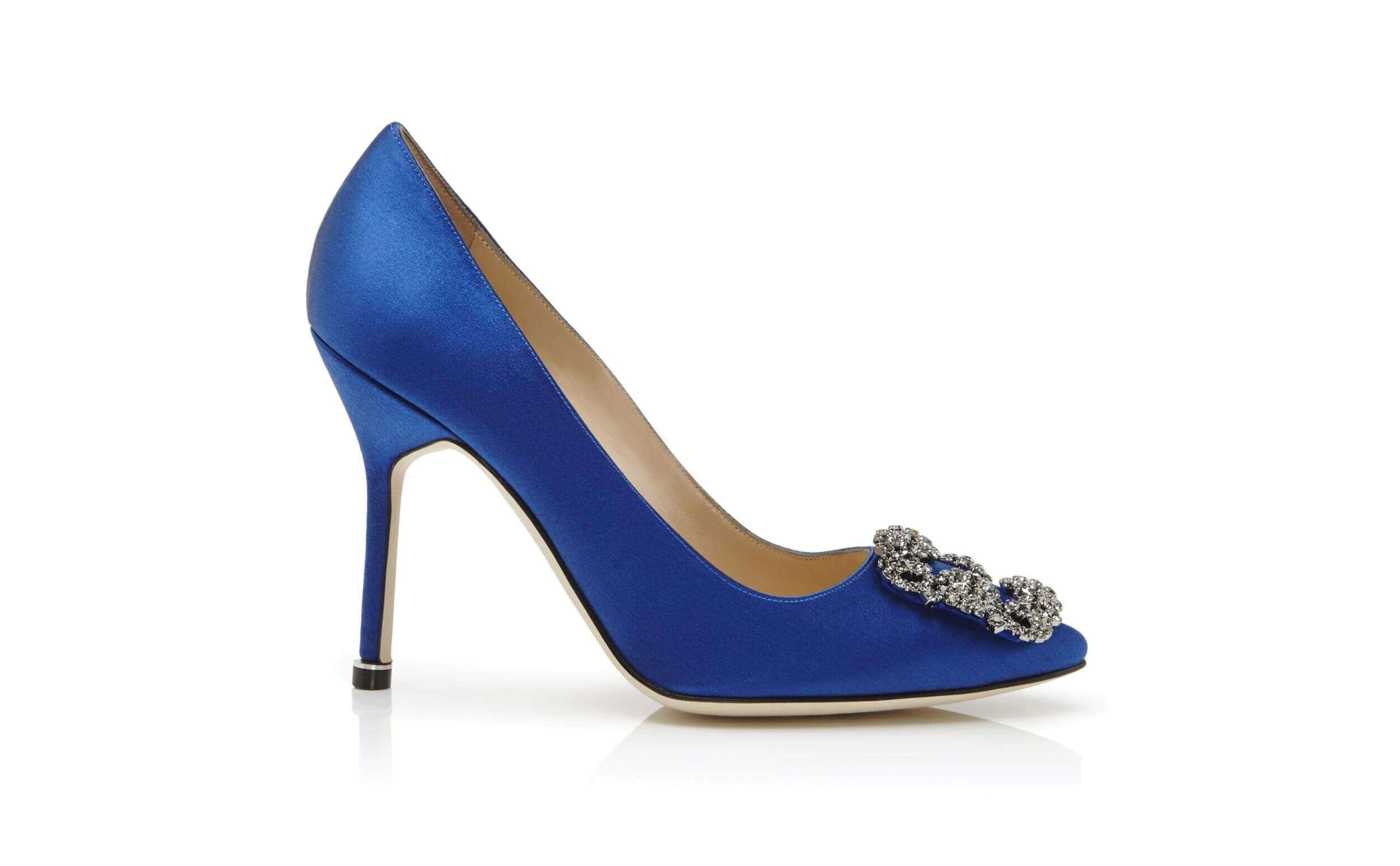 I couldn't leave out Carrie Bradhaw's iconic royal blue wedding shoes from the Sex and the City movie, as I'm a huge fan of Manolo Blahnik. The Hangisi shoe has a high stiletto heel with a crystal buckle on the toe. These blue satin pumps are really something special, with a price tag to match.
Emmy London Bluebell Block, £795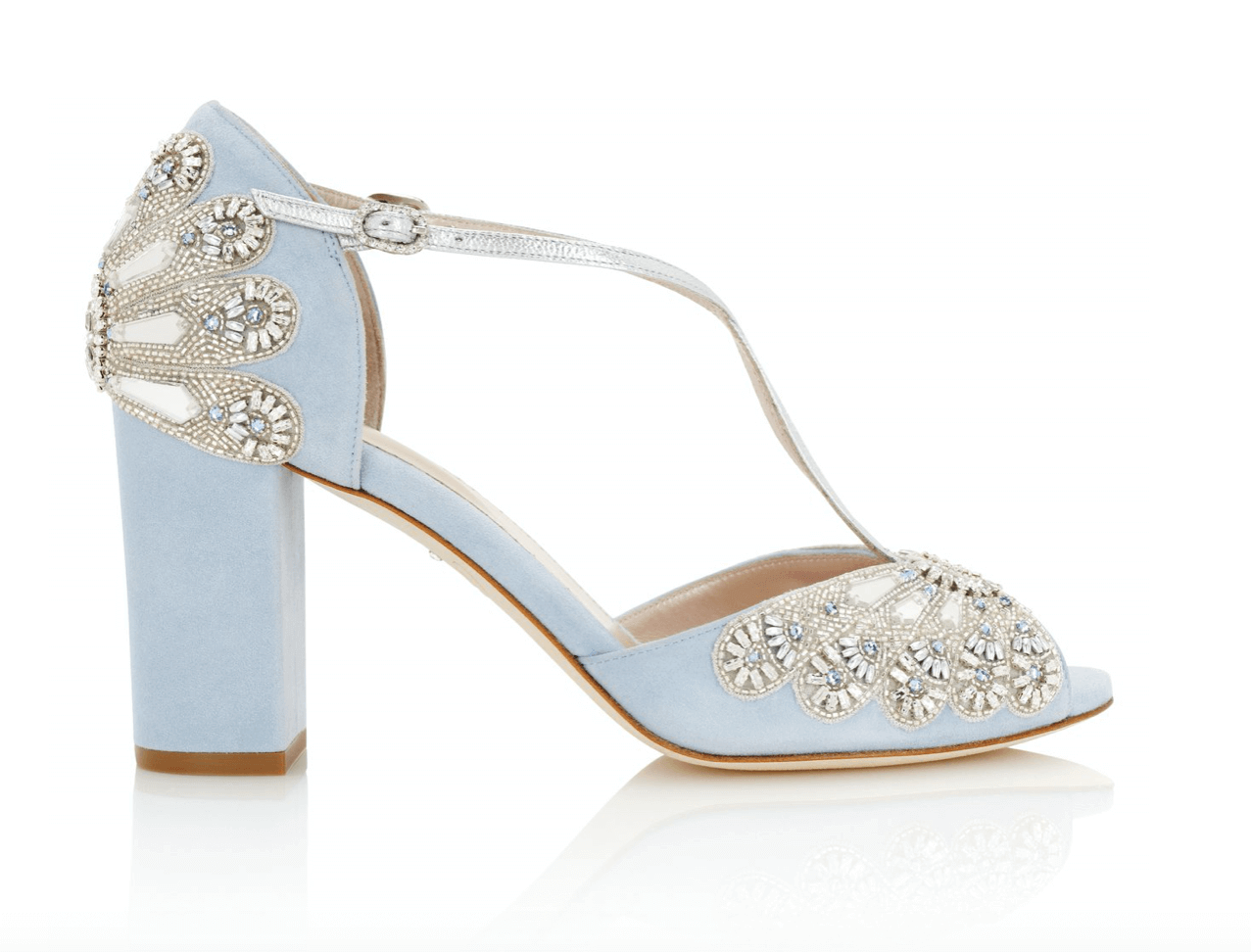 The Bluebell Block heels from Emmy London are absolutely beautiful. The super soft blue suede is hand-embellished with mirrored glass, crystals and bugle beads – all lacquered to ensure they don't catch on your delicate wedding dress.
Harriet Wilde Arabella block £530
The Hetty Midnight Blossom shoe is made from a deep, rich blue velvet, with a nice chunky block heel, making it easy to walk down the aisle and dance in. The detail on the heel is so beautiful – a super sparkly embellishment of gold leaves and white cherry blossom. You can even get a message on the soles to up the sentimental level.
Di Hassall custom Seattle with bows £350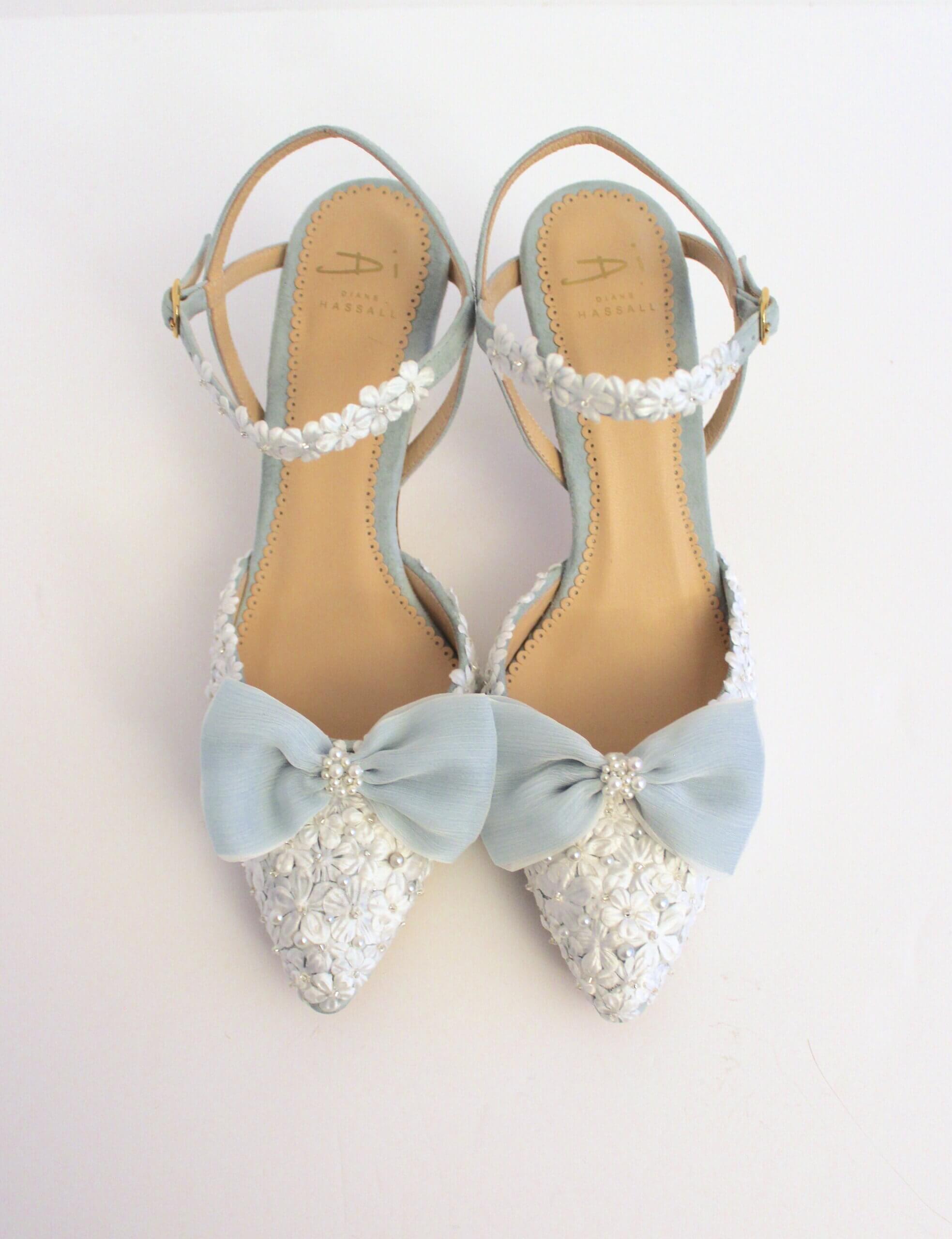 Our very own custom Seattle is the perfect something blue wedding shoe, made from butter-soft suede with our cherry blossom floral detail and pearls and accessorised with the cutest blue chiffon bows. All of our shoes can be customised too, should you want a little extra something.
Comme des Garçons Play x Converse £140
Not a fan of heels? if you live in trainers then these super cute heart pumps in royal blue could be just the job and are just the job for dancing the night away too
Mango pale blue slingback £49.99
Your Something Blue wedding shoes don't have to break the bank, these cute Mango sling backs are a great and very affordable option
So, will you be embracing tradition on your wedding day, or are you planning to go against the grain and have a really unusual and quirky wedding? If you've decided to follow the traditional rhyme, check out our Something blue for the bride Pinterest board for loads more ideas.