When you imagine a bride walking down the aisle, do you imagine her in a pair of super elegant sky high wedding heels? Perhaps you imagine a strappy sandal, or a slinky cutaway court shoe… but just how realistic is that image?
Ok, let's be honest, most of us look at high heeled shoes and think how elegant and gorgeous they look. I certainly do and, don't get me wrong, I love designing high heeled wedding shoes for this very reason.
However, as a low-heel-wearer myself, I'd just like to say that there are lots of beautiful low heeled wedding shoe options out there, and there is absolutely no need to stress about wearing something you're not comfortable in.
If you're a seasoned heel-wearer then you can switch off now, but if not – don't despair, low heeled wedding shoes can be just as chic. Cinderella, you will go to the ball!
Why choose a low heeled wedding shoe?
There are lots of reasons for wearing low heels at your wedding, and you won't need to compromise on how beautiful they look – there are endless choices of stunning low and mid height wedding heels out there, so you won't be short of options.
Take your time and do your research to make sure you're totally happy with your choice. The shoes you wear at your wedding are one of the most important pairs you'll ever buy and are such an important part of your look, so they're worth investing in! But why go for a low heeled wedding shoe?
To be considerate of your partner's height
If you and your other half are close in height, then the height of your bridal heels may be something you take into consideration when planning your wedding outfit. Lots of brides don't worry about this, but to some it's a deal breaker and will dictate the heel height you're comfortable with. If it's going to make your partner feel uncomfortable, that may be a concern too.
For added comfort
If you're used to wearing high heels, then you probably won't worry about wearing them for several hours on your wedding day, but if you're not a seasoned heel wearer then you could buy two pairs of shoes and change halfway through the day – a great excuse to purchase two beautiful pairs of wedding shoes, I say!
They don't necessarily need to be flat wedding shoes, but a low or mid height heel might be a better choice, so that you can still look stunning, add a little height, and dance the night away in comfort.
If you'd prefer to go with what you're used to and what you feel most comfy with, I applaud you for that. You might already be feeling a little nervous about having all eyes on you, and the last thing you should be worrying about is teetering down the aisle in a pair of albeit gorgeous heels that you're totally unused to, and are making you feel even more self-conscious.
I suppose what I am really saying is choose a pair of wedding shoes (or even two) that not only make your heart sing because they are über gorgeous, but that you're also going to feel happy and comfy in. Weddings are usually pretty long affairs, often with a lot of standing, chatting and hopefully lots of dancing too, so you need to feel good in those beauties.
Our favourite beautiful low heeled wedding shoes
There are lots of low heeled wedding shoes in lots of fabrics, from satins to suedes, embellished with lace, pearls and sparkle, and in a wide array of colours too.
Apart from the traditional ivory options, there are lots of other shades that work well for bridal – from pretty nude and blush pink tones, to sparkly gold or silver sandals, or you could wear 'Something Blue' wedding shoes!
Alternatively, you might want to make a real statement and channel your inner Dorothy with a pair of sparkly scarlet heels, or just wear your favourite colour.
I love to think brides will wear their wedding shoes again, so personally I think it's worth investing in a super gorgeous pair – even if your dress is quite traditional, your shoes can be a way of showing your personality or sense of fun.
Here are a few of my favourite low heeled wedding shoes in various heights, with everything from kitten heels to flat bridal sandals.
The perfect party shoe – made from amazing silver leather, and with memory foam padding to ensure comfort throughout your wedding day and dancing well into the night.
This classic court shoe has a low but elegant heel, and has been crafted in beautiful ivory satin. The diamanté brooch at the pointed toe gives you a little extra special sparkle that you totally need on your wedding day.
These bridal slippers are a super simple design, elevated with clusters of crystals and amazing pearls. They're the perfect sliders to slip into if you've decided to wear high heels for your ceremony, but they're also special enough to wear all day long.
For those looking to splurge on a designer low heeled wedding shoe, this Sabine flat by Jimmy Choo could be the one. Crafted in Italy from ivory satin, with an all over pearl embellishment, and finished with an oversized pearl for maximum glamour.
Low heeled wedding shoes by Di Hassall
When it comes to style and shape, whether you're looking for a classic court style, a summery wedding sandal or even a sassy mule, there are endless options available. In our collections, we like to offer the same types of embellishment in both high and low heeled wedding shoes.
Whether it's our Japanese inspired floral blossom shoes, contemporary pearl embellishment or pretty flowery embroidery, you will find both high and low heeled wedding shoe options in all of our collections.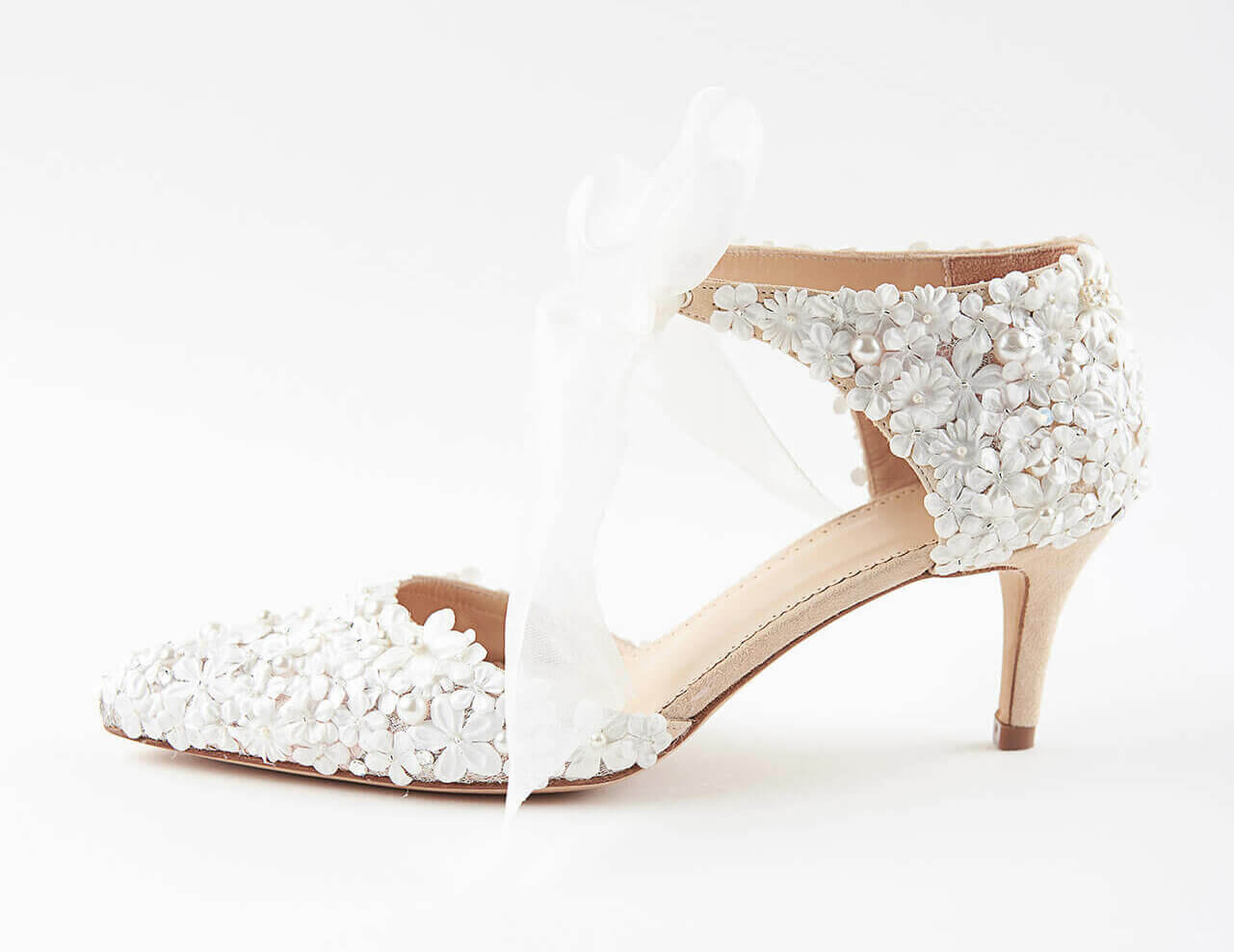 Bettina is a charming blush suede and ivory satin wedding shoe, hand embellished with infinite tiny flowers and lustrous pearls for a romantic wedding day look. You can fasten these delicate low heeled wedding shoes with your choice of sheer organza ties or blush silk ribbons.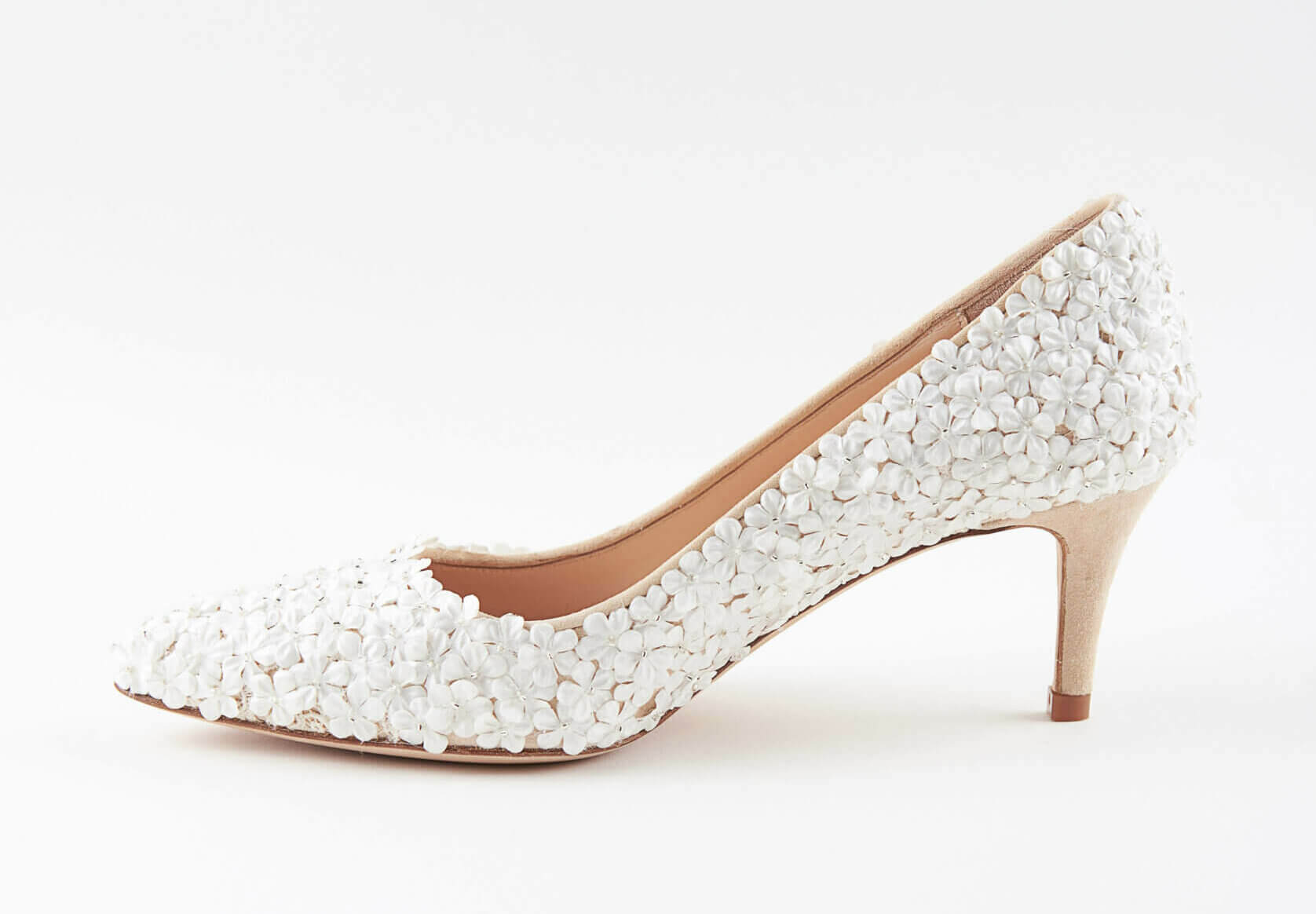 Abbie is the daintiest of wedding heels, from Di's English Summer Garden collection, inspired by cherry blossoms. This low heeled wedding shoe with a softly pointed toe is an elegant and contemporary version of the classic court shoe.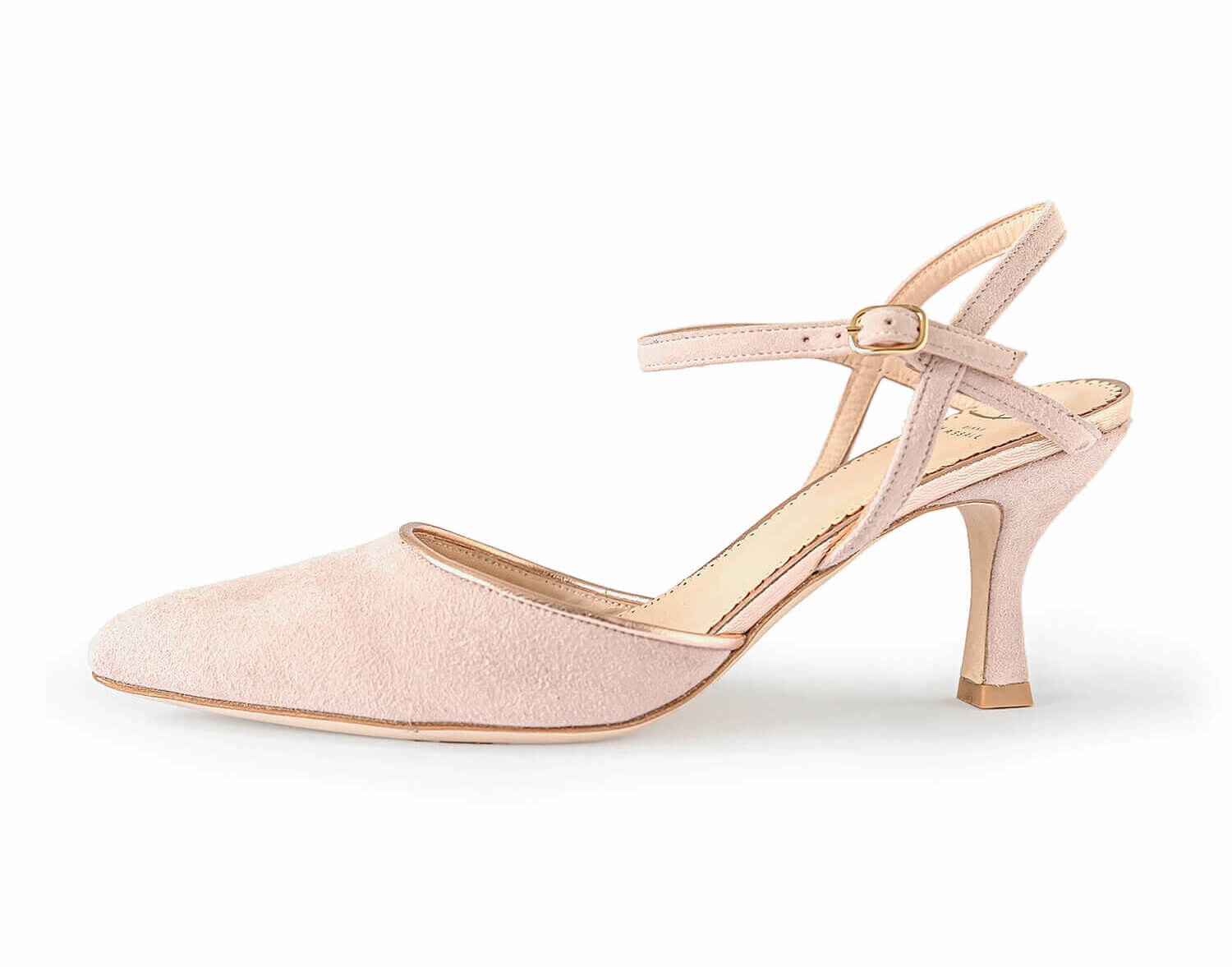 Seattle is a comfortable, low heeled wedding shoe, effortlessly elegant in soft blush suede, finished with rose gold leather piping for a luxe glamorous feel. This hand crafted slingback is super stylish, with a cute, curved heel and beautiful suede crossover strap detail.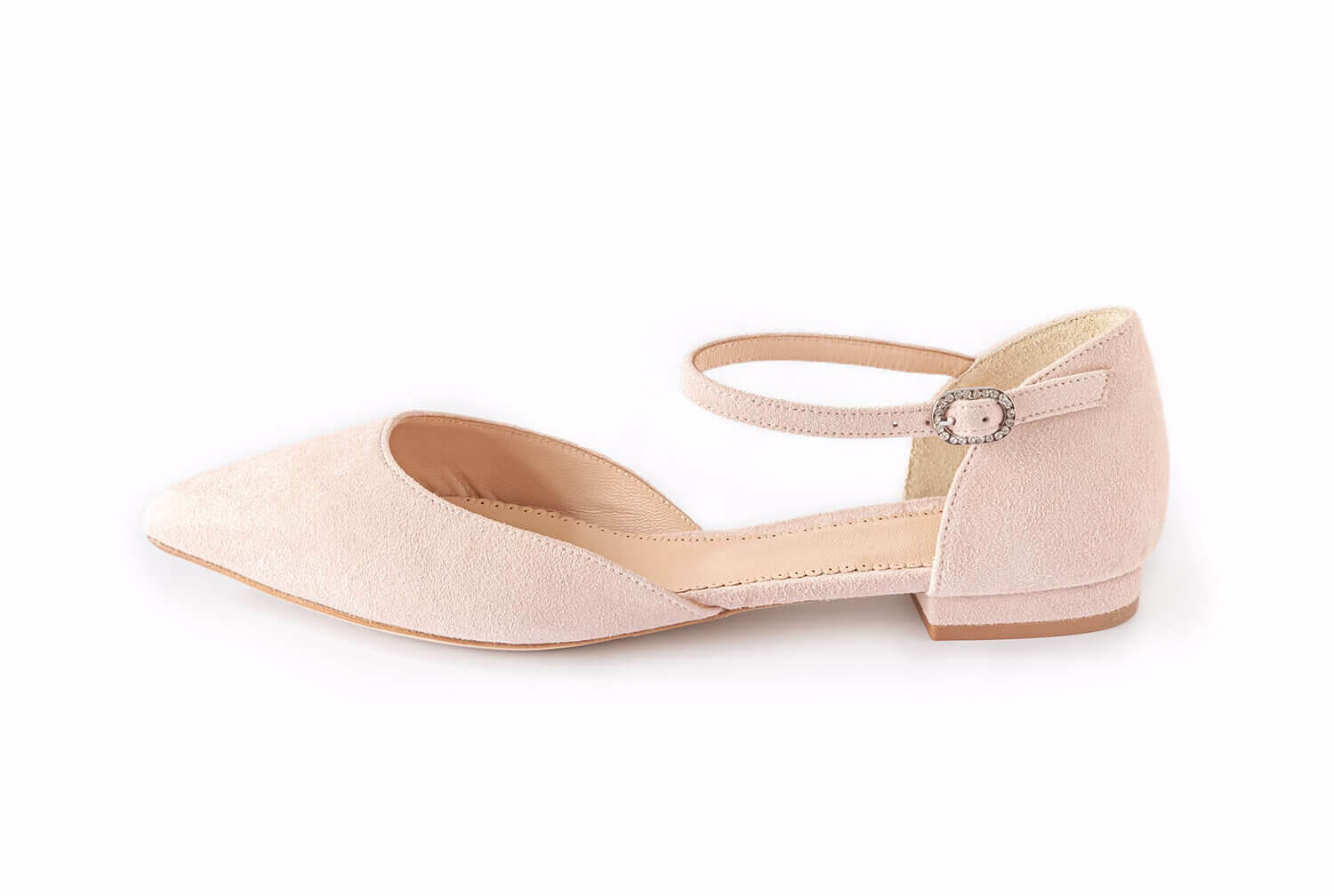 Jenna is a versatile flat wedding shoe, hand crafted in blush suede, with a beautiful diamanté buckle. These bridal shoes with a barely-there heel and gently pointed toe can be a blank canvas for us to customise to your heart's content, or keep them minimal.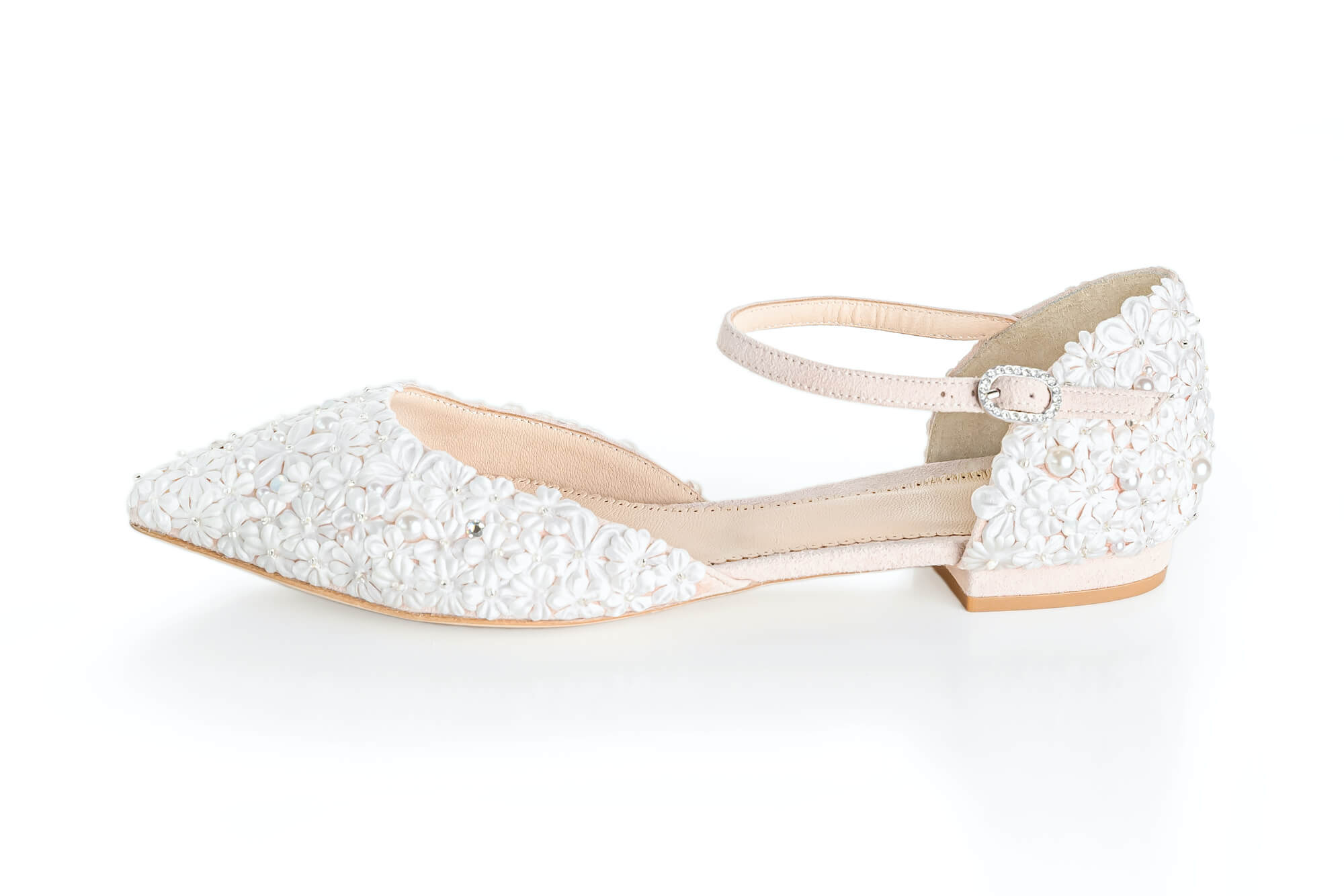 Lindy is part of Di's new Spring Blossom collection, and has a cute little flat heel of approx 1cm for ultimate comfort on your wedding day. It's a very pretty low heeled wedding shoe, with a dainty strap and gold buckle and is embellished with a carpet of tiny florals, pearls and diamanté.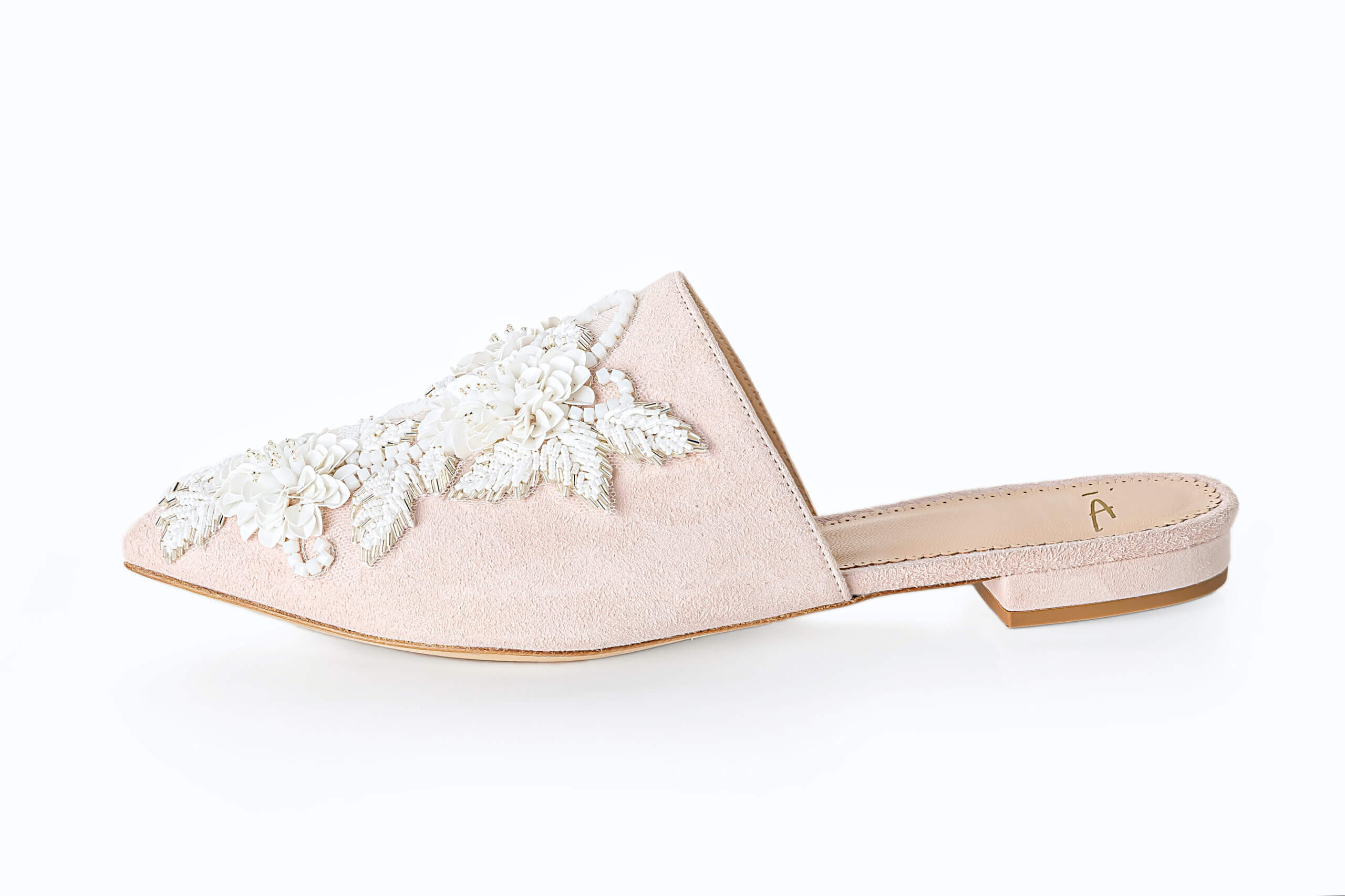 A flat mule, beautifully embellished with stunning light ivory embroidery and beaded florals, Autumn is one of our newest styles. A real statement flat wedding shoe, for brides who want something a little unusual for their wedding day.
Whatever you're looking for, I'm sure there is a pair of stunning wedding shoes out there for you, just waiting to be discovered. Make time for that all-important wedding shoe research and shopping, whether online or in person.
And it goes without saying, if I can help in any way then let me know – it's what I love to do! Many of our low heeled wedding shoe styles can be customised to your needs. Get in touch via the contact page.